The True Power Of Words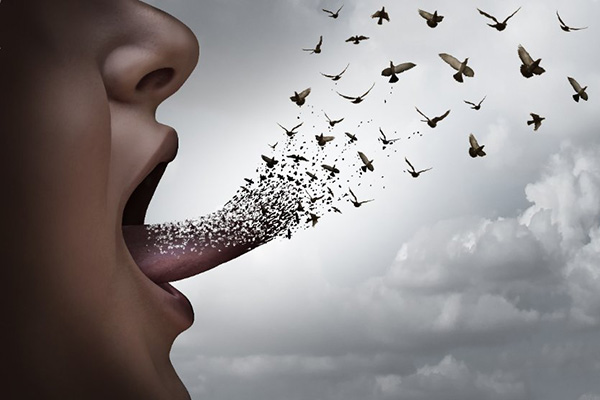 What if a change as simple as the words you use could vastly improve your relationships with loved ones? And not just your choice of words, but also the tone and delivery. Healthy, successful relationships require constructive communication and often our relationships fail on our words alone.
Many people fall in love over time purely through conversations they have with each other. Relationships are usually ended with words alone, especially these days when getting unceremoniously dumped via text message is becoming increasingly common. Our choice of words and how we communicate them can evoke waves of joy and happiness, or they can cut like a knife.
We tend to take for granted the people in our lives. We become lazy and complacent and forget to express our gratitude and appreciation for the relationships we have with loved ones. It is vitally important that we adopt better, more spiritual ways to communicate with people who matter to us.
Have you ever stopped to think about the words you use with your loved ones? You most likely speak somewhat differently to total strangers. Or your choice of words is no longer what they used to when you were in love and the relationship was brand new. And how about the words we use when we talk to our children; are we uplifting and encouraging them, or causing them lifelong trauma?
Too often we say things we later wish we can take back. But if we always aim to think before we speak, and seek to choose the very best words, tone, and delivery, then we are much more likely to build the kind of relationships we desire and deserve.
Be mindful when it comes to your words. A string of some that don't mean much to you, may stick with someone else for a lifetime ~ Rachel Wolchin
We all want to be treated with respect, love, and kindness. But when we let angry words and cruel statements seep into a relationship, it gets harder and harder to maintain the respect, love, and kindness. A relationship built on angry conversations, accusations, name calling, and degradation has no chance of long-term survival. And once you go there with someone…there is usually no turning back.
I always tell my clients that if they want a relationship to grow, they need to nurture it. So, next time you are speaking to a loved one, or even your own self-talk, remember how truly important your words are. Our thoughts and words create our reality. Therefore, they are the most powerful metaphysical tools and spiritual resources we have at our disposal.

About The Author: Amy

Amy resides in Arizona, but through her extensive travels, she has accumulated much knowledge and love for other cultures. She is a member of the Southwest Tarot Readers Association and follows her local Arizona chapter of Astrology. Amy has been a featured guest on metaphysical radio shows, she's provided readings at conferences and corporate events, has delivered lectures on developing your own psychic abilities, and she has shared her expertise on Tarot and Astrology, having earned her certification in both disciplines. Amy grew up seeing orbs and feeling energies but brings over twenty years of practical experience to the table as an accurate Psychic, Tarot Reader, Astrologer and Medium. She has read for hundreds of clients, including one very high-profile crooner! She is always expanding her metaphysical tool belt, offering her clients many delights on her magical menu, including channeling, dream life interpretation, crystal healing, and past life exploration. If you'd like a powerful reading that will also empower you to lead a happier, more rewarding life, you can find Amy at PsychicAccess.com.