Only You Can Achieve Your Goals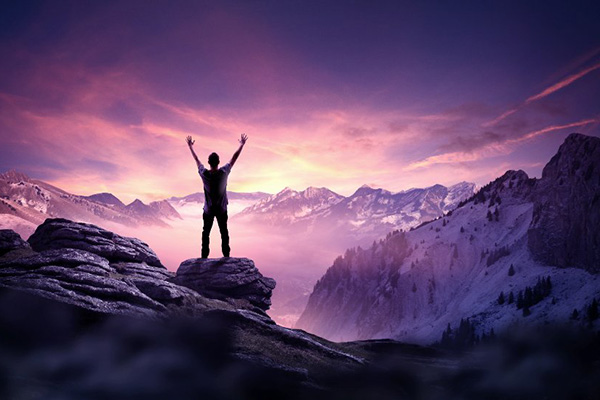 The indigenous peoples of Canada traditionally believe that those born under the Budding Trees Moon (which occurs in the spring months of mid-March to mid-April) have incredible potential to excel in whatever goals they choose for their life. However, it is also said that some of these blessed individuals may be unwise in their expectations of their own abilities, which may slow their progress, or even prevent them from moving forward at all.
It is further believed that this may also happen if they tell a friend or family member what they are hoping to achieve in life, and them not being supportive. Instead of encouraging them, and expressing their faith in their abilities, they might instead call them an unrealistic dreamer or sceptically say they will believe it when they see it. Yes, sadly, it is usually those who are supposed to be our primary support system in life who tend to not believe in us, and least support our dreams.
There is much wisdom in the teachings of the ancient aboriginal peoples. Yes, we can achieve whatever we set our mind to, and anything is indeed possible, but we must also be mindful of our expectations. It does not matter what the goal itself is; what matters most is our own expectations of being able to achieve it.
If we do not believe in our own abilities to achieve even our most modest goals, we will continuously suffer from self-doubt, feel overwhelmed, and never feel worthy enough.
No matter what we choose to aim for in life, it is simply that: a choice. Your choice. No one can stop you, except yourself, and nobody else can get into your head to put you down, unless you let them.  No matter what choice you are making, you must also stand behind it every step of the way.
It may take a few more attempts, or many attempts but success is only achieved once dreams are put into action, where failure becomes the launching pad for smarter choices, or better action plans in future endeavors ~ Byron Pulsifer
In Canada, we have freezing cold winters, with snow and ice, followed by spring with blossoming beauty, summer with sweltering heat, and fall with the beauty of the changing colors of the leaves. Every season has a purpose in the circle of life.
The animals also adapt to each season. The bears know they will be hibernating for the winter, so they will gorge and store internal fat for their long sleep. The fish know to swim to deeper water, so they will not freeze. The turtles bury themselves for the winter in mud creeks, needing very little air to survive. The squirrels gather walnuts and acorns and bury it in trees and in the ground for their winter survival. No one instructs the animals to do this. It is simply their instinct.
In the same way, each one of us has our inner guidance and soul wisdom. We all feel something that calls us forward; we all know we came to fulfill a certain purpose in this lifetime. Some of us will deny it or try in vain to ignore it, but for all of us it will eventually come to the surface.
We all have an 'instinct' to move forward and fulfill our calling, but we do not always allow spirit to guide us. Instead of trying to control every step, we sometimes need to stop, be silent, and listen. Spirit always has the answers and the next steps.
Weaknesses are the things which hold us back and prevent us from achieving our goals. Recognising our weaknesses and converting them into potential strengths is a way of controlling them. This makes it easier for us to achieve our goals and realise our dreams ~ Martin Formato
It is also vital to enjoy the process. When the outcome becomes more important than the process to achieve it, that is when the goal will falter.  Do not allow the stress of wanting to achieve something knock it away from you.
Enjoy every moment. Enjoy every aspect. And if your goal fails, that it is also okay. It does not mean you are the failure. The timing or the goal was just not in sync at the time. When the process unfolds in a state of gratitude and joy, then our goals become reality. If you enjoy every aspect of getting there, that is where the most successes come from.
You are the only one who can do the work. No one else can do it for you. And when you get there, you will be so thrilled with the outcome. Never give up on your dreams.

About The Author: Sheri

Sheri is an international psychic and angel reader who provides clear answers on finance, career, relationships, manifesting your dreams, and working-out the kinks of life. Since 2004, Sheri is the owner on an International Spiritual Healing Centre where she runs her Reiki practice - either working on clients or teaching them the levels of Usui Reiki. She utilizes her office space for readings that are conducted via mail, phone, chat or live. Since 2008, she's honed her gifts on various psychic service websites, where she's provided telephone, chat or email readings. She also works on a spiritual network for people who have suffered horrific loss, applying her own first-hand experiences with such tragedies. Sheri's work has been described as honest, compassionate and life-transforming and she would like to see all of her clients soar free to a higher level of spirituality and growth, and exponentially change the world to the best it can be. You can get a psychic reading from Sheri at PsychicAccess.com.