Chiron And Me – Ravished By A Sacred Centaur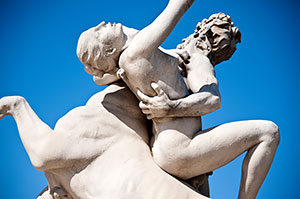 I have studied healing for many years. Since making a conscious decision to embark on my true life journey, I have experienced many powerful teachers. Much of my work has taken me into uncharted waters, and I have learned to welcome diving deep.
As the world speeds up, I have slowed down over this last portion of my life, to recover from an illness that I thought might take my life. This process has brought me to waters so uncharted they seem otherworldly, and perhaps they are.  Fortunately, I have fully re-entered the world I thought I might have to leave, and fully accept the entire experience as a blessing.
Chiron reminds us that only through recognising and accepting our inner wounds can we find true healing ~ Lisa Tenzin-Dolma
Over this time, I have been involved in a relationship with Chiron, the Wounded Healer. He was a centaur in Greek mythology who was gravely injured, and had the opportunity to forever leave his battlefield for the Garden of the Gods. He chose to stay on the battlefield instead of going to paradise, in order to assist others who were wounded.
I have known Chiron practically all my life, so meeting him at my most recent crossroad was no surprise. What was totally surprising, and I see only now, is that I finally fell in love with this hairy beast.
There were many times, especially this last time, when I ran from Chiron's embrace. I needed to be back in the world I had left behind, where I am primarily committed to helping others.  However, there is a practical side, as well. Our modern world is not an easy place to thrive in. Many only survive. There is an unspoken, yet assigned period of recovery from illness, much like the time allotted to grief in our culture, a brief period before we are expected to re-engage with the "normal" world.
For a while I told folks that I'm still picking up the pieces, assuming there was something broken I needed to repair. I am now aware that I will never be the same as I used to be, but I am not damaged. I am broken open and I find I am better than before.
The wounded healer in me knows that healing our driven selves comes from our ability to empower our bodies, hearts, minds, souls, and spirits once more, bringing them into vital unity.  Spiritual healing means taking responsibility for being a whole person ~ Gabrielle Roth
In Chiron's embrace, my heart was completely shattered, but there are no pieces left to repair. They are long gone. What I am experiencing now is like being born, like being fully alive for the first time. There are no more pieces of me, no more fragments. Just immeasurable depth making me new, and I feel whole for the first time.
Re-emergence has taken a while, because everything is new now, including the things that are important to me. I am no longer the woman I used to be, fighting for causes. I have stopped fighting altogether. I am infinitely in love now, and there is nothing more to fear.
I will go on living in this world, fulfilling my role as best I can, but my view of the world is very different now. I have been ravished by a sacred centaur. I lived to tell the tale, and finally I can love him back in return.

About The Author: Mountain Sage

Mountain Sage's profession is Metaphysical Academics. Her extensive training includes Oracle, Healing, Universal Laws & Principles, the Sacred Circle and Psychic Shielding. Focus includes Ascended Masters, Altars, Minerals, etc. She holds the great honor of Oracle Carrier by her tribe due to her outstanding psychic ability, passion for the psychic realm, integrity and sacred work. Get a psychic reading with Mountain Sage at PsychicAccess.com.