The Key To Unlocking Powerful Psychic Readings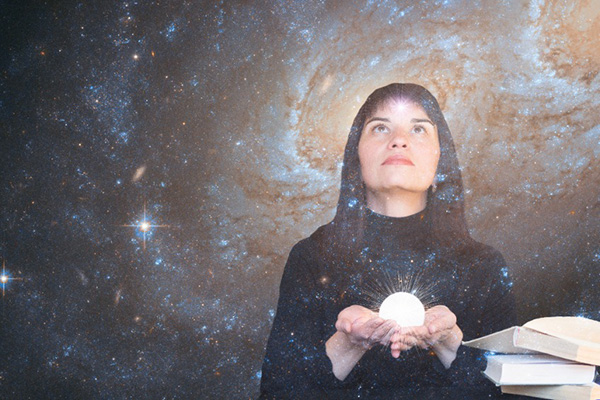 When a psychic or medium reads for someone, a great deal of information can come through from the spirit realm, depending on the client's particular needs and circumstances. However, the opposite can also happen.
People often do not know that the amount, depth, and accuracy of information in a reading does not only depend on the psychic's talent, skill, or ability, but also on the client's free will and openness to the process.
As a phone psychic, I will often begin to experience an influx of basic information even before the client's voice comes on the line. As soon as the phone starts ringing, the psychic process of connecting with the client's energy begins, but this information is generally very limited. There is usually a lot more information the psychic can potentially read, but only if the client specifically asks for it.
Why is this? Are psychics not supposed to instantly know absolutely everything about you? Well, no. We can only know as much as spirit, and you, will allow us to know. Psychics 'hear, see, feel and know' information that is beyond the everyday spectrum of perception, but we cannot interfere with your free will, or pry into people's lives without their permission. We need a mandate from you to address a particular aspect of your life.
To get the most out of a psychic reading it is therefore vital to have a clear goal or specific direction you wish to go before you decide to call a psychic. In fact, to get the most value out of a reading, it is best to begin the session with well-formulated questions or themes you would like to discuss. This will ensure that your most important concerns are addressed and answered. Because what is important to you right now in your personal life, may not be so important to spirit in the greater scheme of your broader life journey and spiritual path.
Ask and it will be given to you; seek and you will find; knock and the door will be opened to you ~ Matthew 7:7
You must first ask for guidance or support on a specific matter, before God, Source, Spirit, the Divine will intervene in most aspects of your life. Having free will in how you live your life is your divine right, and spirit will not impose on your free will unless you ask for help.
You must give your consent for spirit to provide your psychic with the necessary information. If you prefer not to, the information your psychic reader will be able to access and relay to you will remain very limited. Without your explicit request for advice or assistance, the spirit realm will typically not intercede in your life, and as a result your psychic will be very restricted as to what information will be provided for them to share with you.
Divine intervention only happens in extreme circumstances, when our free will life choices have gone very wrong, or even failed completely. For example, spirit may intervene in a very dangerous situation where your life is at risk, but will probably not intervene in the destiny of your dysfunctional marriage, unless you specifically ask for guidance with the relationship.
Without a sense of purpose and direction provided by you for the reading, a psychic can still provide some useful information. However, it may not be the information you seek. If you do not set the tone at the outset, then spirit will set it for you and determine the purpose and direction of the reading on your behalf. The psychic does not control the flow and availability of information in a reading, because the psychic is only the messenger.
A 'let go and let spirit' approach to psychic reading can be especially problematic if you have very limited time available for a pay-per-minute phone reading, for example. It is even more vital in short readings to get straight to the point with your phone psychic. I find my best readings are usually with those clients that are clear about what they wish to explore and who are open to the process. The rule of thumb I've always lived by is, the more open the client is, the more open the psychic can be.
A prudent question is one-half of wisdom. Those that question much learn much ~ Francis Bacon
Take some time to think about your reading before you call a psychic, and write down the questions you want to ask. This ensures your reading will be well-structured and much more meaningful. It also allows for an open line of connection and communication between you and the psychic.
It can be as simple as stating what aspect of your life you'd like for the psychic to focus on, for example doing want to discuss love, career, business, finances, health, family, past lives, the future? For a short phone reading it is usually best to choose only one topic at a time, and ask the questions that you really want to know first. Additional information may follow once your initial questions have been addressed.
The more open and trusting you are with your psychic, the more you will find that the messages flow much more smoothly and powerfully, which will lead to a divine heart connection between you, your psychic, and the spirit realm.
So, before you get your next psychic reading, take a few moments to meditate on the questions you want to focus on. Formulate those questions as if you are speaking directly to God, Source, Spirit, the Divine with your heart. Spirit will support and guide you in any aspect of your life. But first you need to ask.

About The Author: Savannah

Savannah lives in NC, an ardent student and metaphysical practitioner who inherited her gifts from both her grandmothers. At 5, she described in detail her most recent past life with other parents, convincing her mom that reincarnation was real! In her teens, she ignored her talents and in her mid-twenties she embraced her life calling with gusto! She has since studied life after death, astral travel, meditation, psychic Medium/Spirit Contact, 12 strand DNA Activation, Kundalini and she is a certified Reiki Practioner. She has the ability to tune in to other frequencies to hear, sense and feel messages from Spirit. While Tarot has been her most useful tool in communicating with the other side, automatic writing was the bridge that first got her there. For over 2 decades, Savannah has demonstrated astounding accuracy with clients and those clients keep coming back! Her Faith is the cornerstone of her practice, but she finds that all religions contain truth and beauty. The most important ingredient to a happy life is to follow your heart. If you'd like a reading with a gifted psychic who can offer you a mystical and transformative experience, you can find Savannah at PsychicAccess.com.


This site uses Akismet to reduce spam. Learn how your comment data is processed.