Spiritual Self-Care For The Empath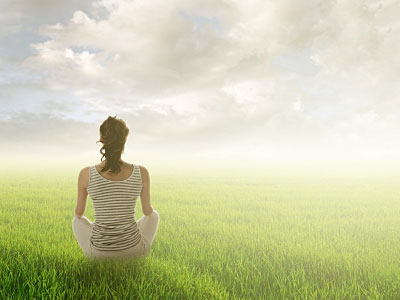 Since empaths spend a great deal of time experiencing the emotions and feelings of others in a very visceral sense, spiritual self-care can be especially important.
Work, family, friends and intimate relationships can take their toll on everyone, but can send an empath into a tail spin. It's crucial for an empath to be clear which feelings and emotions are coming from them, as opposed to those coming from someone else.
Empaths have been compared to sponges soaking up all the energy and feelings surrounding them. Sooner or later the sponge becomes saturated and cannot absorb any more. Instead of finding a spiritual practice that resonates for them, some empaths will shut down or self-medicate with food, alcohol or excessive caffeine in order to feel relief.
Self-compassion is simply giving the same kindness to ourselves that we would give to others ~ Christopher Germer
It's far healthier to make the time and create the space for your spirit to recharge, reconnect and ground. Practices such as prayer, meditation, contemplation, stillness, yoga, and mindfulness, center and ground us, allowing us to calm and quiet the mind, and soothe our nerves. It connects us with the Divine and our inner voice, creating a sense of peace, clarity, joy and strength. Other documented benefits are improved health, reduced stress, increased compassion and optimism, and an overall improved outlook on life.
By quieting the mind and deeply relaxing the body, you'll experience deep states of inner peace, and ultimately, higher states of awareness and peace. This allows your gifts as an empath to expand to higher states of awareness.
I believe one of the biggest benefits is the ability to experience this heightened sense of awareness with a new sense of calm and understanding, and not feel drained at the end of the day, regardless of the intensity of interactions, or the amount of stress and chaos we encounter daily. We can interact and connect with others in a truly powerful and helpful way, while remaining at peace ourselves.
You will also notice that you sense what is coming and from whom. This forewarning stops the feeling of being side-swiped with sudden emotions and pain. You will begin to innately sense who or what is coming and the appropriate response to the person or situation.
Nourishing yourself in a way that helps you blossom in the direction you want to go is attainable, and you are worth the effort ~ Deborah Day
Make time to honor and care for your very sensitive spirit in a way that empowers you. Don't put yourself at the bottom of your priority list. Take time to experience that which strengthens you and gives you peace, and reconnect to the core of your marvelous you.
As an empath, you will sleep better, laugh more often, sincerely enjoy being with and around others, and find work, family and friends infinitely more enjoyable.
Don't be put off by the term 'spiritual practice.' Define it for yourself and pay close attention to how you react to different philosophies, practices and ideas. Which elicit an immediate sense of relaxation and peace, and which are you drawn to? What intrigues you, or catches your attention? When you find what is right for you, you will know as an empath. Your body will relax, your mind will focus, and your heart will leap.

About The Author: Angelic Heights

Empathic, intuitive, psychic from a very young age, Angelic Heights (Gail) learned well the importance of using her gifts for the highest good. Marriage and a career in the paralegal field occupied her until her early 30's. Accurate, compassionate and direct, her focus now is entirely on enlightening, uplifting, inspiring and guiding those who seek her counsel. Get a reading right now with her at PsychicAccess.com