Daily Archives:
May 28, 2023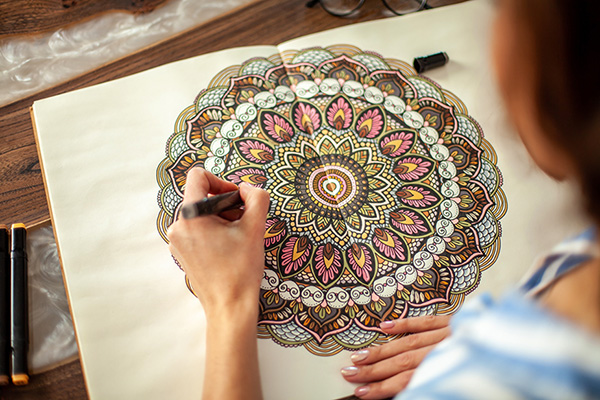 Years ago, I taught a class on sacred geometry. My favorite section of the class was related to using mandalas as a tool for the inward journey and I would like to share this practice with you.
When using a mandala as a form of meditation you begin by creating a large circle. I have always found it easier to start with a graph based on concentric circles, but others start with just a circle and their imagination or intuition. Start at the outer edge of the circle to begin your session and work your way around the outer edge. Gradually work your way to the center of the mandala – this represents the inward journey.
We start by creating patterns and designs on the outside of the circle. This is the largest part of the circle and represents the universe. Understanding the expansiveness of the universe we can feel very small and insignificant, so it is important to move inward to find our grounding within the cosmos.
As we move inward in our mandala we contemplate our planet, then our country or large group of people we identify with the most.  For many people this can be a religious tradition. We then move to contemplating our acquaintances, family, and friends.
Towards the center many mandala meditators will create four sides, or a square that leads to the center of his or her mandala. These four sides represent the four cardinal points, South, West, North, and East.