Finding Peace And Strength In Trying Times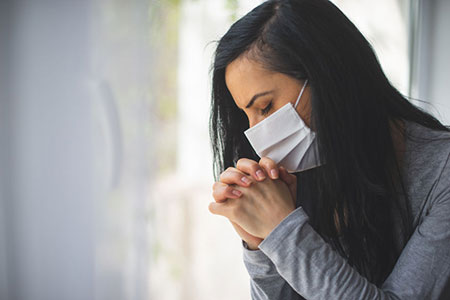 The past few months has been a very trying time for all of us. It is easy to get worked up over where we are right now, and become anxious about the future.
At the beginning of the Covid-19 pandemic, a wave of fear and worry crashed over us. We were wondering if there would be 'enough.' Enough food, enough hand sanitizer and disinfectant, enough hospital beds, enough money to pay the bills, and even enough toilet paper! No longer were we looking to 'keep up with the Joneses.' Instead we were looking to make sure our households were safe and just had the basics.
During this time, I was reminded of all of the Laura Ingalls Wilder books I read as a young girl. She also lived in a time when they were not sure if they would have the necessities to live out a harsh winter. Here I was now, all these yea healthy and protected. Everyday items universe tie into all of this you may ask? Many have wondered if they were on the right path with decisions being made during this crucial time. Worrying if work will be there for you we normally would take for granted suddenly took on a new significance.
These fallout of the coronavirus pandemic, and subsequent lockdowns all over the world, have also caused many of us to wonder if we were on the right path with decisions being made during this crucial time. Many have been worrying about our jobs and businesses, and whether or not we will be able to pay our bills.
And once the storm is over, you won't remember how you made it through, how you managed to survive. But one thing is certain. When you come out of the storm, you won't be the same person who walked in. That's what this storm's all about ~ Haruki Murakami
Yes, this is a difficult time, but if you look back on some of the past hardships in your life, you will most likely realize how resilient you really are. You have always somehow made it through to the other side, and sometimes you were even much better off than you were before those traumas and setbacks. Just the sheer knowledge and experience of how to get through times of hardship and adversity, bring about the ability to take on hard times in the future with greater hope and ease.
Also, if you are feeling very lost and uncertain in these times, remember that there is a higher power always working behind the scenes. One of the first things I did, as we entered these strange times, was to ask the universe for guidance, protection, and strength. I called on the guidance of spirit to assist me with my intuitions and instincts on choices I needed to make. These were often simple day-to-day choices, like saying a quick prayer before I jumped on the Internet to search tirelessly for hand sanitizer. Sure enough I found a local company with a great price and connected with the owner easily to be able to get what I needed.
I have also been calling for spirit to place a bubble of protection from the universe around my house, to keep me and my family safe. And, I called on strength from the universe to keep our bodies strong and for us to make the right choices when it came to our health. I also called on strength to be able to help others in need.
Not surprisingly, during this time many people have turned to their spiritual beliefs, that they had brushed aside for many years. The stress of this time, and the unknowing, have lead to a stronger connection to spirit and has brought much inner peace to many people. If you have been neglecting your daily spiritual practice, there is no better time than now to rekindle it.
Strength and courage aren't always measured in medals and victories. They are measured in the struggles they overcome. The strongest people aren't always the people who win, but the people who don't give up when they lose ~ Ashley Hodgeson
Also during this time, a lot of people have connected more with Mother Earth. As we heal from these trying times and are drawn to connect more with nature, there is a grounding that takes place along with a calm understanding that we are all connected. Next time you get a chance kick off your shoes and walk through the grass with your bare feet. Take a deep breath and calm your mind. Spend more time outdoors. Most of us don't do this kind of thing often enough.
Lastly, take time to open your heart, and pray or meditate on behalf those who are experiencing a much more severe time of crisis. Many of us are experiencing much stress and discomfort, but there are people in the world who are truly suffering extreme hardship at the moment. This pandemic is affecting all of us, but some are much more affected.
Let us open our hearts and offer up prayers for those who are sick, who have died, who may be grieving, and those serving on the front lines. Taking these moments not only helps those that you were thinking of, but it actually helps you mentally and physically and emotionally to be better able to deal with these changing times.

About The Author: Amy

Amy resides in Arizona, but through her extensive travels, she has accumulated much knowledge and love for other cultures. She is a member of the Southwest Tarot Readers Association and follows her local Arizona chapter of Astrology. Amy has been a featured guest on metaphysical radio shows, she's provided readings at conferences and corporate events, has delivered lectures on developing your own psychic abilities, and she has shared her expertise on Tarot and Astrology, having earned her certification in both disciplines. Amy grew up seeing orbs and feeling energies but brings over twenty years of practical experience to the table as an accurate Psychic, Tarot Reader, Astrologer and Medium. She has read for hundreds of clients, including one very high-profile crooner! She is always expanding her metaphysical tool belt, offering her clients many delights on her magical menu, including channeling, dream life interpretation, crystal healing, and past life exploration. If you'd like a powerful reading that will also empower you to lead a happier, more rewarding life, you can find Amy at PsychicAccess.com.