Always Be True To Who You Really Are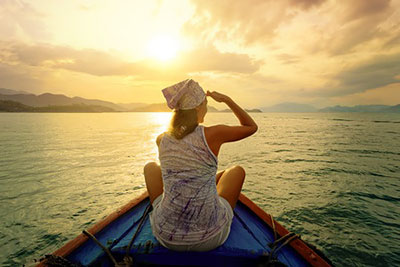 We should all take the time to visit a nursing home or a senior's retirement village, and speak to the residents. It can be a life-changing experience. Recently, I have had the opportunity to speak to several seniors and one of the questions I asked them was, "If you had your life to live again, what would you do differently?"
Some said they would change nothing, as they had family, friends and lots of love in their lives. They also knew the true joy of being in the moment, and how laughter was the healer of most wounds in relationships, and otherwise. However, the vast majority responded that they would have been more true to themselves. These seniors told me they would have followed the original path placed in their soul, instead of living for what someone else wanted, or what someone else thought they should be.
A lot of the conflict you have in your life exists simply because you're not living in alignment; you're not be being true to yourself ~ Steve Maraboli
The regrets that these people had were real. Too much time has passed and they cannot reverse the days gone by. Some of their joys were now beyond their reach, because of their age or because it is no longer physically possible. Some of their dreams were destroyed, as the person they were living for unexpectedly left them high and dry.
Their message is simple. Never live for another person. Never become what another person thinks you should be. Never do what another person says you should be doing. Go deep within yourself and live according to what your gut instinct is telling you. Follow your soul path, even if it is not in alignment with what someone else wants. If you let another determine how you will live your life, you will end up like many of the seniors I spoke to. They were sad, filled with regret, and many of them felt totally lonely and isolated.
When you follow your path, or soul purpose, you are telling the Universe that you are listening to the messages it is sending.  You are telling the Universe that you are complying with the dreams that are engraved deep within your soul. When you do this, even though you don't know the 'how', you will be successful. Universe will provide the opportunities, the 'how', and doors will open. All you have to do is take that first step forward. It is a leap of faith, however if you never step out of your comfort zone, you will never have the chance to make your life amazing.
Other people, especially those that you are in a relationship with, will always have opinions on how you should live your life. Their opinions are usually not in alignment with your highest good. Do not share your dreams or the intuitive messages you are receiving from your guides and angels with just anyone – unless you know, without a doubt, that they are on board with who you are and what you choose to do with your life.
Whoever you end up with, you shouldn't be changing a thing for them. Nothing. Don't be with anyone if you can't be you. Because you're bang on just as you are ~ Lucy Robinson
This is your life, your dream, your gift that is being brought to the surface, and when you choose to ignore it, eventually it will fall to the wayside. You will wake up several years later, regretting not following the path that was laid out for you.
You are to know that the pessimistic opinions and negativity of others is not who you are. You were given several dreams and several gut feelings about different areas of your life by spirit, and when you choose to ignore them, you are not being true to who you are. You are suppressing the truth and the personal successes that are waiting for you.
Don't sit on the sidelines waiting for something to be brought to you. Don't allow others to tell you the direction you should take in your life. Be true to who you are. Life begins at the end of your comfort zone; learn to be comfortable with being uncomfortable. There will never be failure in your life as long as you refuse to quit trying.
Always be true to who you are, never discuss your success with those who do not support your dreams, and never worry about your failures, because that will affect your next step forward.  Believe in yourself, and believe in both your successes and failures, and you will move forward and win in life.

About The Author: Sheri

Sheri is an international psychic and angel reader who provides clear answers on finance, career, relationships, manifesting your dreams, and working-out the kinks of life. Since 2004, Sheri is the owner on an International Spiritual Healing Centre where she runs her Reiki practice - either working on clients or teaching them the levels of Usui Reiki. She utilizes her office space for readings that are conducted via mail, phone, chat or live. Since 2008, she's honed her gifts on various psychic service websites, where she's provided telephone, chat or email readings. She also works on a spiritual network for people who have suffered horrific loss, applying her own first-hand experiences with such tragedies. Sheri's work has been described as honest, compassionate and life-transforming and she would like to see all of her clients soar free to a higher level of spirituality and growth, and exponentially change the world to the best it can be. You can get a psychic reading from Sheri at PsychicAccess.com.