Empaths And Endings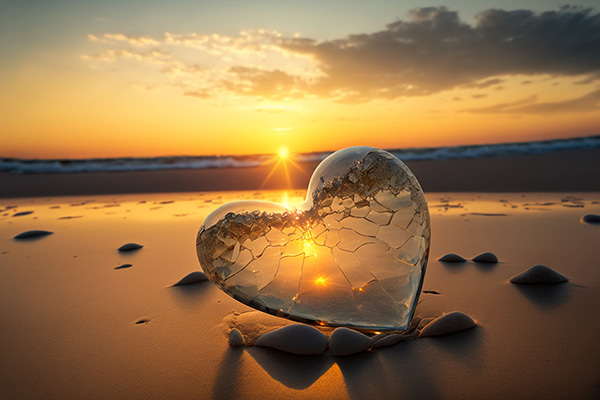 Anger is one of the most difficult emotions for the empath to navigate, and the ending of a relationship is definitely one of the most challenging of all.
Any relationship that falls apart is tough, but if you are an empath you may well find yourself trying to navigate some very overwhelming waters. Not only will you be feeling your own pain, anger and confusion, but you will also sense your partner's feelings, and possibly even that of your families and mutual friends.
Trying to make sense of all these emotional energies, staying centered and sorting out your own feelings separate from your partner's is a very tall order.
Chances are you have also been sensing that something had been radically amiss for some time, before your love finally went on the rocks. It is important to take time to look back and remember when you first sensed something was off. Empaths are often aware of their partner's moods and feelings, and may act on it too prematurely. Pushing too soon can result in the partner shutting down, or insisting that nothing is wrong. The problem is, however, that an empath will feel that something is wrong and will not be able to shake that feeling. You knew something was wrong… and you were right!
It is critical that you shift your focus away from your partner and towards taking care of yourself. Allow your emotions to flow. An empath is always going to be more focused on the other party's actions, reactions and feelings. You automatically link in to them instead of you. To move through this painful experience you must shift your focus and concentrate on you.
Let go. Why do you cling to pain? There is nothing you can do about the wrongs of yesterday. It is not yours to judge. Why hold on to the very thing which keeps you from hope and love? ~ Leo Buscaglia
If you can allow yourself time and space to process your own emotions and thoughts, it will make it much easier to utilize your natural gift and have some clarity and understanding about your partner and where they are coming from. It's second nature to you, so let this ability work for you, not against you.
Empaths are highly sensitive, but strong. It's okay for you to allow yourself to cater to your own for a bit. Give yourself the same understanding and compassion that you so often grant others. Allow others to support you the way you have supported them.
Bathe yourself in compassion and understanding and pay very close attention to your physical health. Empaths can become ill very suddenly if they don't really focus on getting proper rest and nutrition. Demands on your body will be high at this time, not only are you feeling your stress and sadness, but your body is also processing the emotional chaos of your ex.
One of the most hard-hitting things that empaths experience during a break-up is that they often still 'feel' their ex, although the relationship has officially ended. It can literally wake you up in the night with nightmares, or the nagging incessant feeling that something is wrong with your ex.
I've talked to many empaths who say, "I just want it to stop, how do I make it go away." The answer is, you can't force it.  It's part of who you are, this innate knowing of another's emotions, especially someone you have loved.  Facing that energy and focusing on sending that person forgiveness, healing and peace, is crucial for your own sanity. Do not indulge feelings of hatred or revenge; concentrate on releasing them from your energy.
If you want to forget something or someone, never hate it, or never hate him/her. Everything and everyone that you hate is engraved upon your heart; if you want to let go of something, if you want to forget, you cannot hate ~ C. Joybell C.
Forgiveness is initially a choice, not a feeling. As an empath you may find that choice difficult, when every fiber of your being is screaming in hurt and anger.  But make it anyway, choose it. It will flow through you to them and help cut the cord of chaos. More than likely you will find yourself doing this several times a day and I strongly urge you to do it before you go to bed at night. Empaths are particularly open at night. Deliberately put this thought, this energetic shield out before you close your eyes.
Finally, during this time, pray, meditate, watch inspirational videos on forgiveness and moving forward, take an online class, or read a spiritual book. Practice anything that requires you to focus on releasing and healing. Surround yourself as much as possible with uplifting energy. Let it seep into your empathic pores and let the healing begin.

About The Author: Angelic Heights

Empathic, intuitive, psychic from a very young age, Angelic Heights (Gail) learned well the importance of using her gifts for the highest good. Marriage and a career in the paralegal field occupied her until her early 30's. Accurate, compassionate and direct, her focus now is entirely on enlightening, uplifting, inspiring and guiding those who seek her counsel. Gail believes that it is as critical to understand the energy of the people we choose to be involved with. Regardless of the nature of the issue, whether it be romance, career, business, or family, the essential needs of every client always come through clearly in her readings. She is able to hone in very quickly on major concerns and deliver accurate messages and solutions to problems. Get a reading right now with her at PsychicAccess.com