Helping A Young Psychic Develop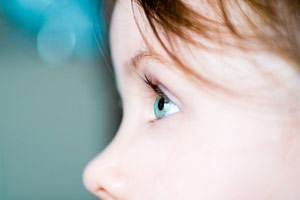 A young person with a psychic gift must be recognized early on, and nurtured in their development. If not, they may experience a lot of confusion and even trauma. Their gift must be seen and experienced as a blessing, not a curse.
My niece Rachel was one of the more fortunate. She clearly had a gift from a very tender age. When she was a little girl I would give my brother and sister in-law some time off by babysitting Rachel and her older sister. Every time I would go over to their house to watch the kids, Rachel didn't want me to read her normal children books. She would grab the family photo album and look specifically at old pictures of deceased family members. She would look at these photos with much interest and talk to the people in them as if they were sitting right in front of her.
Out of the mouths of babes and sucklings hast thou ordained strength ~ Psalms 8:2
Now I know kids can have a very active imagination, but I never underestimated her. At that time she five years old – the same age I was when I had seen a ghost for the first time. Eventually Rachel did not talk only to the photos. She would talk to 'invisible' people in the room, saying things like: "Hi Aunt Margaret, how are you?" She would be waving to "Aunt Margaret" as if she was sitting right next to her.
The more she was doing this, the more I felt the need to talk to my brother about it. Easier said than done. My brother John is the skeptic of the family, besides my sister Lynda. But I still did discuss this with them, because I didn't want my niece to go through the same distress I did as a child. But despite the fact that both my older brother and my mother also had the gift, my brother John had a difficult time accepting that his daughter can have the gift too. So, I asked my brother if I could do a little experiment with Rachel, to see if she could truly 'see on the other side'. Maybe it was just her imagination.
My test was simple. I asked Rachel to tell me who she saw – but not the ones in the family photos. I wrote down every detail she told me about each person, including their names and what they said to her. I put my notes in a sealed envelope and put the date on this when it was done.
If a child is to keep alive his inborn sense of wonder, he needs the companionship of at least one adult who can share it, rediscovering with him the joy, excitement, and mystery of the world we live in ~ Rachel Carson
The next time we had a big family reunion, we played a game in which all the adults had to write down something they could remember about a deceased family member. All together there were nine names on the final list of people that Rachel had never seen or met. Out of these names there were five that Rachel did mention. I then told everybody why we played this game and what was going on. My brother John was very surprise about what was written on the paper. Rachel had seen many things she could not possibly have known.
As time went by Rachel faced further challenges with her psychic experiences, and I continued to help her from time to time. As she grew older she developed the gift of clairtangency, where she would read energy vibrations to pick up information, also known as psychometry. She can put her hand on an object and she will tell you about the vibration and what she sees.
I sometimes give her guidance and advice on video chat, to help her to develop and use her gifts. If you feel someone around you has the gift, please try to offer them understanding and encourage them to open up to you. Psychic ability is a gift from God and must be respected, appreciated and nurtured.

About The Author: Raymond

Growing up on the streets of Columbus Ohio, Raymond learned at a very young age that he was gifted in many ways, including the ability to read someone's eyes and using a regular deck of playing cards to read the future! His mother was from a Native American family, namely the Black Foot tribe, and his father was German. Raymond discovered that both sides of his family had a psychic legacy. Over the years he has gained additional knowledge from books and by talking to trusted family members. Raymond has been doing psychic reading for others for over 3 decades, and over the years he gained many loyal clients from all walks of life. Visit Raymond for a reading at PsychicAccess.com