Angels And Dreams
Published
April 16, 2013
|
By
Shani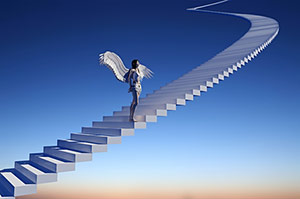 I was nine years old when I saw three beautiful Angels, in what you could call a rather 'unlikely setting'. My parents were visiting some friends one Saturday evening and when the drinks began to flow, they put me upstairs on the bed, in their friend's master bedroom.
The adults were making quite a lot of noise downstairs, and I found myself lying on the bed looking up at the ceiling, when lo and behold, just like a sliding door, the ceiling opened up and there were three magnificent beings with the night sky in the background. Today I know they were Angels.
Pay attention to your dreams – God's angels often speak directly to our hearts when we are asleep ~ Eileen Elias Freeman
In later years I researched books and images of those beautiful beings, and some artists had captured them just as I had seen them in my vision. Although their message came to me in telepathic form, it was clear: "We will always be with you."
Some people are too fearful to open themselves up to Angelic guidance, or perhaps they don't know where to begin the communication process. If this is the case, Angels can come to us in our dreams, or in visions.
The bible mentions more than 700 clairvoyant visions and dreams. We can receive a lot of guidance from spirit through dreams. Asking for guidance via your dreams takes some practice. You can ask for guidance and direction for any problem, from relationship, to money, or career issues, by asking for guidance and answers while you sleep.
To do this, make sure your bedroom is comfortable and that it creates a relaxing environment. If the last thing your eyes see before drifting off to sleep is chaos, your dreaming time is more prone to be filled with chaotic images, because this can be a reflection of what is going on in your life. Bring some order into your bedroom to help bring order into your life, including the romantic side of your life!
Make yourself familiar with the angels, and behold them frequently in spirit; for, without being seen, they are present with you ~ St Francis of Sales
To assist with sleep, place a drop of lavender essence on each corner of your pillow and don't forget pen and paper to record dream messages upon waking. It's best to jot down your dream message on waking, because during sleep we are in our spiritual, unconscious self. As soon as we awaken, we shift into our physical, conscious self and we can soon forget the most vivid of dreams after waking up.
Make yourself very comfortable before drifting off to sleep. Tense and relax your body, especially your hands and feet a couple of times, then say: "Angels, as I sleep, please advise me and help me find the answer to (mention the problem). I will be ready to interpret my dream when I wake up, thank you."
And don't forget to write down any images or feelings you recall from your Angelic assisted dream.

About The Author: Shani

Shani is a qualified practitioner in Reiki, aromatherapy, reflexology, body spin, and animal telepathy who received psychic development training at the Arthur Findlay College of Psychic Research in England. A published writer, her articles and predictions have appeared in several respected magazines and on psychic websites, and she has read for many celebrities and even heads of state in Africa. Though she was born in London, Shani has traveled the globe and has studied the art of African Mysticism, bringing her unique flavor to those seeking her incredible talents. Get a reading with Shani at PsychicAccess.com.


Posted in

Angels, Children, Dreams, Life Design, Paranormal Phenomena, Self-Help, Spirit Guides, Spirituality
|
Tagged

angel readings, angels, apparition, communication, dream analysis, dreaming, dreams, guidance, higher self, inner guidance, intention, meditation, sleep, spirit guides, spiritual messages, telepathy, visions, visitations
2 Responses to Angels And Dreams
This site uses Akismet to reduce spam. Learn how your comment data is processed.