The Ghosts Of Regret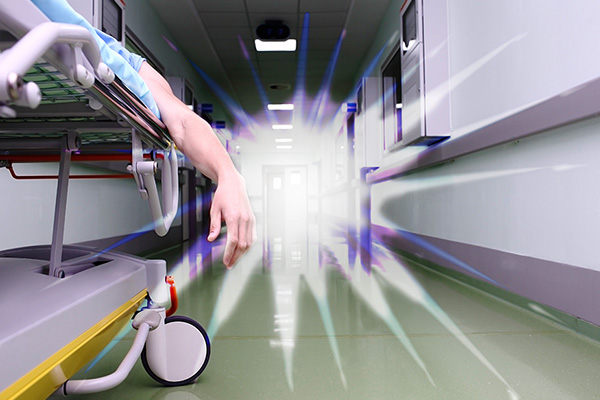 As part of my training as a spiritual life coach, our class was asked to do a profound exercise. Our task was to imagine ourselves on our deathbed someday, being visited by a gathering of ghosts. We had to imagine these 'ghosts' from our past as being very bitter and angry, because they represented all the things we never achieved or succeeded in, coming back to haunt us. They were the ghosts of our unfulfilled goals and dreams returning to die along with us.
We were asked to then review our life and imagine what we would say to ourselves and our 'ghosts,' now that our life is over. What would we advise ourselves to do if we could go back in time, get a second chance, and somehow live our life anew?
For me, this was a very thought-provoking process. The first thought for me was my personal 'bucket list' of things I still want to experience in this lifetime. For example, I still want to travel on the Orient Express train with my family; see the view from The Shard (a 72-storey skyscraper in London); fly down The Grand Canyon; and witness the splendor of Niagara Falls.
There are many things I still hope to also do. But why have I not done at least some of it yet? Too busy earning a living? Yes, we all get busy, and most of us need to work. However, does this mean we cannot also lead a fuller life?
The next thought the deathbed exercise brought up for me was a sad memory from a few years ago, when my late brother was receiving rehabilitation treatment at a local hospital. We were very close as siblings. He confided in me one day, while we sat looking out the hospital window and saw a young family walking by, that he often feels intense regret and sadness when he sees people with their kids and grandkids, while he had no offspring of his own.
Don't be on your deathbed someday, having squandered your one chance at life, full of regret because you pursued little distractions instead of big dreams ~ Derek Sivers
My heart wept for him in that moment. But I also had to acknowledge the truth. Through his own choices and actions, my brother had allowed time to slip by without ever investing in a committed relationship and, therefore, other than myself, he had no family of his own later in life. As much as I adored him, he was primarily responsible for this lack in his life, as well as any other experiences he may not have enjoyed.
My late brother is, however, not the only person guilty of this. I think most of us procrastinate or lack commitment in some aspects of our life. Most people seem to neglect or disregard at least one facet of their life, be it romance, friendship, family, career, finances, health, or spirituality. And someday it will be too late for regret.
Bronnie Ware, an palliative care nurse who spent several years looking after patients in the final weeks of their life, began sharing their dying epiphanies in a blog she called Inspiration and Chai. These blog posts received so much attention that she eventually shared her observations in a book, The Top Five Regrets of the Dying. Among the top five regrets she lists is: 'I wish I hadn't worked so hard.'
The reality is that on our deathbed someday, none of us will regret not having worked longer hours, or not getting that promotion, or not obtaining that second master's degree.
Life doesn't owe us anything. We only owe ourselves, to make the most of the life we are living, of the time we have left, and to live in gratitude ~ Bronnie Ware
What we are far more likely to regret is not having spent more quality time with our loved ones, not experiencing more of the wonders of the world, not having more fun and laughter in our daily life, and not fulfilling our life purpose or leaving behind a meaningful legacy that made the world a better place.
According to Bronnie Ware, her patients were also regretful that they had allowed other people to dictate how they led their lives, instead of remaining true to themselves, and that they didn't allow themselves be happier in life. They also regretted not staying in touch with family and friends as much as they should have.
My own wake-up call came in 2019, when I had a breast cancer scare. Fortunately it turned out to be a benign cyst, but it truly made me reflect on my life, and what I would still like to do. The experience made me seriously review my life and how I was going to live it in future.
I soon after came to the realization that a simple way to start getting more out of life is to do at least one thing that brings me joy every single day. Too many of us wait for the weekend, and postpone until the holidays, to enjoy the things that truly make us happy. Just doing something every day that we really like, no matter how small or simple, can be a game-changer!
Another aspect we can all make more of an effort with is to tell people in our life how much we appreciate, love and respect them…while they are still alive. So many of my clients over the years have expressed regret not having reached out their loved ones while they were still around.
Don't allow yourself to become one who, nearing death, regrets what you might have done if only you had taken a few risks. We each have a purpose in life ~ Gillian Stokes
My father was a man of few words. Throughout his life, whenever he did have something to say to me, it usually tended to be negative or critical. However, in the last summer of his life, much to my amazement, he confessed to me that he had always felt I was the better person. He highlighted my qualities as a parent, worker, daughter, and human being. It was clear to me that he said these things because he knew he was dying and did not want to leave this world with even more regret.
The very thought of dying is not pleasant by any means, but do yourself a favor and seriously contemplate the final moments of your life. Are you currently living your life to the fullest? Are you truly being of service in the world? Carefully consider who will stand around your deathbed someday: the bitter ghosts of regret…or the people you love, alongwith the blessed angels of joy, fulfillment, and gratitude.

About The Author: Lucinda

Lucinda is a highly trained Intuitive and Empath, living in a beautiful village in North Yorkshire, England. She possesses the rare gift of understanding a client's personal pain and has been through many challenges, herself, which has only made her stronger! It is both her calling and her happiness to help those in need. And whenever she needs a little help herself, her Guides are always there to assist in her development and provide clear interpretations for her clients. Prediction has always been a great tool she could count on to accurately foretell events, but Lucinda also draws on her expertise with Dream Interpretation, Numerology, Angel Cards, Law of Attraction and Life Coaching to provide full and detailed solutions to any problem. A member of AMORC and Beyond Freedom Evolution, she provides inspiration, education and personal support for spiritual development. If you'd like answers or want to attract your desires, you can find Lucinda at PsychicAccess.com.