Online Dating Is Seldom The Problem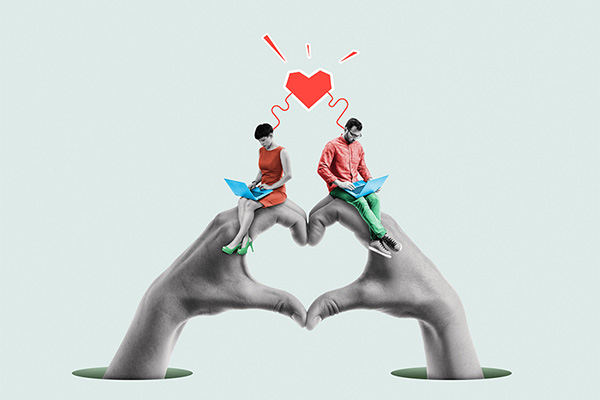 How does one find that everlasting love so many of us seek? This is the big question. In today's era of social media and online dating, romance is so very different from the old days, when one would more often meet someone through friends and relatives, or at work. I am not saying that oes not happen anymore, but chances are slim in a new era where more of us are working from home and studies reveal that more than half of adults are experiencing loneliness.
I believe nowadays most people are actually scared to enter the dating scene. Not only does it take one out of your comfort zone, but we have all heard horror stories of people who tried online dating and now feel they will never want to date again. Some people are also adamant that online dating simply does not work.
The truth is quite the opposite however, when one looks at research statistics. For example, in a 2019 study found that meeting online has become the most popular way for couples to connect in the United States.
A 2021 study estimated that about 323 million people worldwide were using dating apps and matchmaking sites to meet new people. A recent survey found that about one in every three people who use these platforms found someone to have a long-term relationship with, and at least 13% of online daters eventually get engaged or married because of using these platforms.
In my experience the dating apps and websites are not the reason why some people fail to meet the right person or have bad experiences with online dating. I have seen time and again in readings I do for clients all over the world that the key elements for dating success are self-love, self-worth, mental health and spiritual awareness.
In our study we found that the success of a relationship did not depend on whether the people met online or not. Ultimately, it doesn't matter how you met your significant other – the relationship takes a life of its own after the initial meeting ~ Michael Rosenfeld
According to spirit, online dating is seldom the problem. To find our soulmate we must first 'mate with our own soul.' Too often people expect to find a partner who will provide the answers or be the solution to their wounds, issues or shortcomings. They hope that perfect soulmate will show up to wave a magic wand that will fix all their problems or turn their entire life around.
Spirit says we must first be able to unconditionally love ourselves and be able to offer to others what we expect from them. We first have to face our shadow self and do the necessary soul-searching and healing work, before we will attract a healthy relationship. We also need to tie up our lose ends, and sort out our unfinished business with former spouses and parthers, before we can start the next chapter with some new.
Also, we need to manifest our own abundance and prosperity, and wholeheartedly begin to live an authentic, joyful life, before we will be truly able to build a harmonious, balanced, lasting relationship with another.
Most of all, we must ask, and it will be given. We must pray, meditate, chant, visualize, daydream, imagine, do affirmations, and set intentions. We must trust that the Universe always has our best interests at heart and will send us the right person at the right time…when we are ready. Until then, we must continue to ask for guidance and support in our healing and personal growth, and strive to become the best version of ourselves as it was originally intended when we were created in the image of God, Spirit. Source, the Divine.

About The Author: Venus

Venus lives in Arizona and has helped clients with her arsenal of psychic gifts for over twenty years. She was blessed with Clairvoyance, Clairaudience, Clairsentience and Empathic gifts, and she is also a certified Life Coach and a Reiki practitioner. Departed loved ones will often enter a reading, either invited or they simply show up to pass along their messages. Messages also flow in from her direct communication to Spirit and Angels, providing the client with the answers they need to get them moving forward toward happiness, rewards, and success in their lives. In addition to being a psychic, life coach, and reiki practitioner, over the last ten years, she has also been a teacher and has led seminars to help others embrace their higher knowledge. If you'd like a compassionate psychic who can tune-in immediately and channel without tools, you'll want a reading with Venus at: PsychicAccess.com.