electronic voice phenomena
Published
February 6, 2021
|
By
Tracey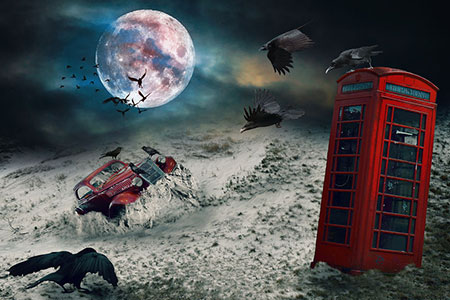 I've had many strange paranormal occurrences in my life, but the most recent one really takes the cake!
My talkative Libra husband was on a marathon 3-hour call with a friend, when a wondrous thing happened during their conversation. A strange, ethereal voice cut-in and actually cursed my husband out, repeatedly!
The call was on speaker phone, and I was downstairs in my kitchen, hearing the entire discourse.
"What is going on up there?" I called out.
"You heard that?"
"Of course I heard that. It's beyond creepy."
His friend heard nothing on his end and thought my husband was playing some kind of a prank on him.
Then the eerie voice returned, this time calling him a horse's hindquarters.
"It just happened again!" he shouted.
"I know…I heard that. I'm coming up there now to record it," I said.
All the while, his friend continued to hear nothing on his end.
I hit the record button on my cell and waited…but crickets ensued. There was absolutely nothing, so eventually I went back downstairs, somewhat disappointed.
Of course, the moment I arrived back in my kitchen, the disgruntled spirit returned shouting the same colorful epithets, like a salty sailor! No surprise there, as my husband actually is a bit of a salty sailor himself and knows many who've passed in the industry.
Posted in

Afterlife, Paranormal Phenomena, Spirit Guides
|
Tagged

Afterlife, crossing over, earthbound spirit, electronic voice phenomena, EVP, ghost, ghost whisperer, ghosts, haunting, intelligent haunting, mediumship, paranormal, Paranormal Phenomena, poltergeist, spirit, spirit communication, spirit contact, spirit guardians, Spirit Guides, spirit messages, spiritism, spiritualism, The Other Side, visitations
|
Leave a comment