Daily Archives:
September 6, 2022
Published
September 6, 2022
|
By
Megan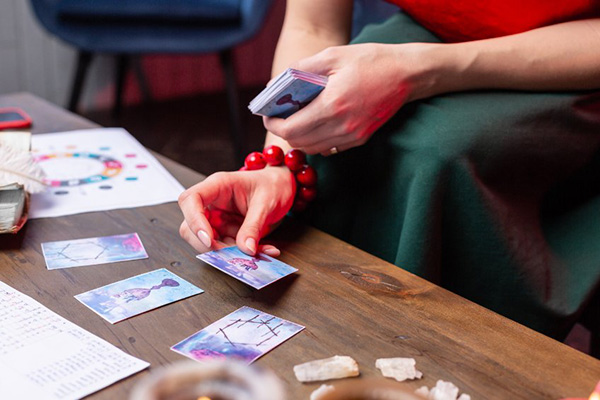 I like to use oracle or angel cards when I do readings, because they provide the client with a visual element. This makes the process of reading seem more tangible, and less intimidating. In fact, these user-friendly cards are so accessible that they can be used by anyone in their daily spiritual practice.
My regular clients know that I use the terms 'angel cards' and 'oracle cards' interchangeably. They are basically decks of cartomancy cards similar to traditional Tarot, but they tend to have more positive messages, images and symbolism than the Tarot.
The many ways one can use oracle cards in your personal practice are only limited by your imagination. For example, you could pull a card and use it as a journal prompt, and then use freewriting or brainstorming to explore how you're feeling about a certain topic or issue.
You can also ask a question, hold the cards to your heart, and then select the cards you feel most drawn to for the answer. Once you have selected the cards, I advise clients to truly 'listen' to the story the cards are telling you. What thoughts, feelings and intuitions do the images and words evoke? How do they correspond with the other cards you selected? What are the common themes?
If it's helpful you can place cards in a divination spread, or you could pull just one at a time. A simple oracle spread you can try uses only three cards. The first card indicates the past, the second the present (the anchor card), and the third reveals the future.
Sometimes, when a particular card doesn't seem to provide an instant, clear answer, take a closer look at the different visual elements of the card. For example, what is the person in the picture wearing? Are there any images in the background that provide additional insight or inspiration?
Posted in

Angels, Divination, Energy, Intuition, Life Design, Psychic Readings, Self-Help, Spirituality, Tarot
|
Tagged

angel cards, angel guidance, angel messages, angel readings, art, cartomancy, divination, divination tools, divine guidance, divine inspiration, energy, energy awareness, guidance, imagination, inspiration, intuition, oracle cards, psychic guidance, psychic reading, psychic symbols, psychic tools, reading, self-help, self-reflection, spiritual guidance, spiritual practice, symbolism, tarot, tarot cards, tarot deck, tarot readings, tarot spread
|
Leave a comment