How To Work With Oracle Cards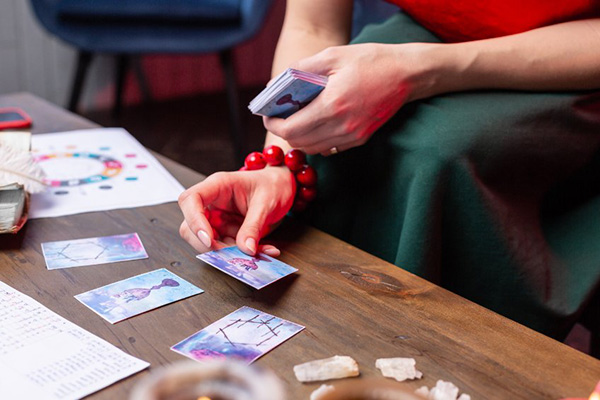 I like to use oracle or angel cards when I do readings, because they provide the client with a visual element. This makes the process of reading seem more tangible, and less intimidating. In fact, these user-friendly cards are so accessible that they can be used by anyone in their daily spiritual practice.
My regular clients know that I use the terms 'angel cards' and 'oracle cards' interchangeably. They are basically decks of cartomancy cards similar to traditional Tarot, but they tend to have more positive messages, images and symbolism than the Tarot.
The many ways one can use oracle cards in your personal practice are only limited by your imagination. For example, you could pull a card and use it as a journal prompt, and then use freewriting or brainstorming to explore how you're feeling about a certain topic or issue.
You can also ask a question, hold the cards to your heart, and then select the cards you feel most drawn to for the answer. Once you have selected the cards, I advise clients to truly 'listen' to the story the cards are telling you. What thoughts, feelings and intuitions do the images and words evoke? How do they correspond with the other cards you selected? What are the common themes?
If it's helpful you can place cards in a divination spread, or you could pull just one at a time. A simple oracle spread you can try uses only three cards. The first card indicates the past, the second the present (the anchor card), and the third reveals the future.
Sometimes, when a particular card doesn't seem to provide an instant, clear answer, take a closer look at the different visual elements of the card. For example, what is the person in the picture wearing? Are there any images in the background that provide additional insight or inspiration?
Oracle cards can be used for any kind of exploration based on whatever the artist and author of the deck decide. There's no one thing that makes an oracle deck an oracle deck, besides the fact that they're a deck of cards that are used for spiritual insight ~ Gabriela Herstik
Remember, divine guidance is a two-way communication. If the message or answer is unclear or confusing, simply ask for clarification. Shuffle the deck and try again. If the result is still puzzling, then put the cards away, go for a walk, clear your mind, and re-center your energy. Let go of the need to know the answer. You will be surprised at how the information will soon come to you another way.
There are many inspiring oracle and angel card decks available these days. Find one to work with that resonates most with you. Before you purchase a deck, consider how you intend to use it. For example, will it be to pull a card each morning and have it on display at your desk as an inspirational reminder throughout the day? Or will you use it from time to time to do in-depth readings for yourself when having to make important life decisions?
Also, be sure to select a deck with the ideal size and packaging to suit your unique needs. There are many beautiful, ornate decks, but the shape may be impractical. A large, heavy deck, for example, is not very practical to carry around with you all day.
Furthermore, consider the design and feel of the cards and read a sample of the accompanying booklet, if it is available. See if you personally resonate with the energy of the images and the words. Is the artwork inspiring? Are the words meaningful to you? Do you feel you will be able to easily interpret the meaning of the cards?
Most of all, remember that there is no wrong way to work with angel or oracle cards. Just let your intuition and imagination guide you.

About The Author: Megan

Megan was born with wide open gifts, experiencing dreams and premonitions at a very early age. She has had 30 years of daily tutelage from Guides, Archangels, Ascended Masters, and the Ashtar Command. Since 1993, Megan has been providing honest and compassionate readings and healings, starting with friends and family, then transitioning to a professional practice, in 2006. She's certified in various psychic and healing methods, including Reiki, Angel Work, and specializing in relationship readings, giving detailed info on how long a relationship will last, whether the partner is honest, and what their intentions are going forward. Megan has accurately read for clients around the world. She is very proud and grateful for her client loyalty and has a long list of devoted clients who have worked with her for years, many since the inception of her practice. To get a life-changing psychic reading with Megan reach out to her today at PsychicAccess.com


This site uses Akismet to reduce spam. Learn how your comment data is processed.