True Love Is About Letting Go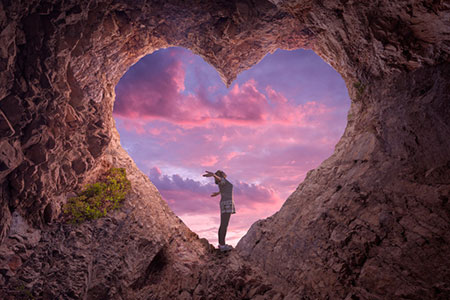 Over the many years of doing psychic readings, I feel the best advice I have ever given clients is to let it be, and let it go. As difficult as it may be sometimes, whenever spirit shows me that toxic love cord connection, while there is still lifelong learning, soul growth and spiritual evolution to be had, then I know that person needs to release the energy that is holding them back and surrender to the flow.
The potential good news is that instead of losing the person we let go, the opposite often happens. Without all the energy attachments of anxiety, fear, obsession and worry, the other person who has been struggling to be separate, independent or free from the one that is holding on, feels the dramatic shift in energy and often change their mind and come around.
There is some real truth to be had from the 1981 rock hit Hold On Loosely by 38 Special that I still love to listen to. That song probably remains popular after all these years, probably because it offers such sensible relationship advice!
People sometimes come to me in turmoil, devastated and in tears, because they think it is over or never going to happen. If I see there is still hope and potential, I advise the client to let go and just go with the flow. The people we love are not always ready when we are. Sometimes we just need to give them a little space and time.
Sooner or later come around if it is meant to be – especially when we no longer spoil them with our constant, undivided attention, emotional coddling and obsessive thoughts. Every time we think of someone they pick up on the energy and begin to take it for granted. So, practicing 'tough love' tends to work wonders in the energy realm.
I have sees this advice work for most of my clients over the years, so I am sharing it with you today. If you intuitively feel a strong love cord that connects you with another, and that other person just does not seem to feel it in the same way you do, try just letting go for a while and see what happens. That person often comes around after a time left alone to think, ponder, and maybe go through some personal growth, trials and tribulations.
Surrender is faith that the power of love can accomplish anything… even when you can not foresee the outcome ~ Deepak Chopra
It's all about divine timing and trusting the process. Whatever we resist in life will often persist, so do not resist your beloved's free will choices. When you surrender and accept what is, then all the energy you have been wasting in resistance of their wishes will become available to you. Imagine all the amazing things you can accomplish in your life with all that extra energy!
Never force things. It is the one thing that gets us in in trouble the most. It is simply not wise to interfere with the divine purpose and flow of things. Just surrender and let them be for now, and see how wonderful life and love can be when you learn go with the flow.

About The Author: Moon Goddess

Moon Goddess is a third generation empathic healer and seer. She started to give healing readings to people more than 20 years ago. She has always been interested and studied all things metaphysical from a young age. Being hypersensitive she can feel and see things before they happen. Utilizing the Tarot, and with the help of her Guides, she is a source of support for many people all over the world. After he passed over, her grandfather kept his promise and came back to say goodbye and gave her the most amazing experience. Moon knows there truly is a Heaven, and it is wonderful! Sharing her experience has helped many people after they have lost someone, or anyone experiencing some form of grief. Get a reading with Moon Goddess now at PsychicAccess.com.