Astrology Forecast July 26 – August 1, 2021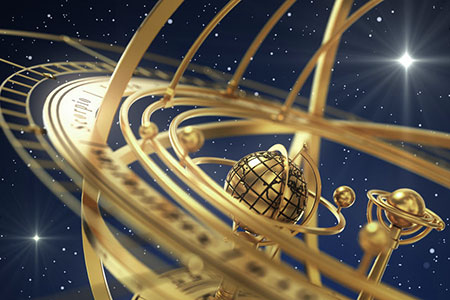 If you are single, you can probably take things easy today, as the Pisces Moon calls us to reflect, remember and relax. However, the Moon's opposition to Venus in Virgo may give rise to intense emotion and frustrated passion that may leave the rest of us feeling restless or discontented in our long-term relationships and marriages. Problems may be forthcoming with partners that can upset our domestic bliss.
Mercury will enter Leo tomorrow, urging our hearts and minds forge ahead into new enterprises over the next few weeks as it energizes and inspires us! The Pisces Moon sextile with Uranus in Taurus will further increase our ability to focus our attention and be more persuasive and determined in our dealings with others.
Things heat up even more Wednesday through Thursday as the Moon marches through Aries and Jupiter, that has gone retrograde since June 20, now backtracks into Aquarius. This can generate a sense of rebellion or frustration, and we'll need to be careful when anger or aggressiveness rises up. Maintaining composure is of utmost importance until this energy passes.
Luckily, Mars will move into Virgo late Thursday and restore a sense of grounding and decorum to our words and actions. Once Mars, the planet of action, gets settled in Virgo, we'll have two months of organized and detailed focus, which will give us the power to manifest on a high level.
The ideal aspect of an Aries Moon sextile Jupiter in Aquarius will end the work week on a perfect, optimistic note with financial and social success, and high spirits. With the Moon moving through Taurus over the weekend, we are likely to fill the weekend with productive movement and fun-filled activities. Just try to maintain a good balance: getting your chores done before running out to play is always a good idea.

About The Author: Susyn

Susyn lives in New Mexico, and offers Psychic Guidance, Astrological Insights and Channeled Messages that will change your life! Her credentials are top-notch and include a doctorate in metaphysical studies and certifications from The American Association of Professional Psychics and The American Tarot Guild. She's also a published author, with two metaphysical books under her belt, and has authored numerous articles and horoscope columns. In addition to her readings, Susyn is also a mentoring practitioner who teaches others how to master their own gifts, raise their vibrations, and empower themselves. A sought after guest on numerous radio programs, she has also hosted her own radio show. If you're looking for one of the truly bright shining stars who can also read them with an accuracy that will astound, look no further. You can find Susyn at PsychicAccess.com.