A Sincere Apology Is Good For The Soul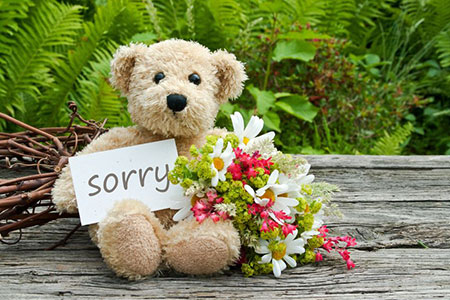 One of the most difficult things in life is knowing when to apologize. It is obvious in some situations, but in others not so much. There are times when we need to weigh out all our options. Is the situation worth an apology, even if you are not the one who created a problem?
Knowing the right time to apologize is critical to the resolution. Was it done intentionally, or was it unintentional? Did the action cause others stress, worry, or pain?
You must also ask yourself if you can live without apologizing the rest of your life. Is it worth losing a friendship, leaving a group, resigning from a job, or not speaking to a family member ever again?
The good old Golden Rule can always come in handy in this dilemma. If you have done something that you would not want done to you, then apologize and seek atonement! Many people find it almost impossible to apologize. They struggle to acknowledge their own part in an argument or wrongdoing.
Some just do not seem to understand their actions were unacceptable, or they always feel that the world is out to get them. There is no compromise in their mind. They always try to twist every situation to make it seem like it is another person's fault.
For some people, on the other hand, an apology seems to roll off their tongue a little too easily. When a sincere apology is made it must be followed by actions. Actions speak louder than words. By not repeating the offense, for example, it shows a true and sincere apology.
Sometimes all the other person needs to hear is a sincere, "I am sorry." When we accept responsibility for our actions, we tell others we are sorry for hurting them. It is not always easy, but releasing guilt always is good for the soul.
Life is so short. Grudges are a waste of time. Laugh when you can, apologize when you should, and trust God with what you cannot change ~ Nicky Gumbel
Sometimes the other person needs to vent how they feel, because it is the only way they can move forward. It shows that we are truly sorry when we can listen without trying to defend ourselves. Pay attention and let them know that yu understand what they are saying and feeling. Make eye contact. Everyone wants to feel heard and how they feel must indeed matter.
Tone of voice can also make or break an apology. It is not what we say, but how we say it. One's tone of voice can really reveal if it is a sincere apology. Apologizing just to say what we think the other person or group wants to hear never works. The truth always rises to the top eventually and true colors in time always show.
It is also best never to make a promise, or accept a promise that you already know will be probably be broken. When I do readings, spirit will often say, "Give them a second chance because you will always wonder if a situation could have been resolved." But that does not mean a third, fourth, or fifth chance! A repeated action usually is not going to change.
One of the hardest apologies in life is the one we need to give to ourselves for putting up with situations we did not deserve. Sometimes we do owe ourselves a sincere apology! My own experience was putting up with an eleven-year relationship that clearly was not working.
If an apology is followed by an excuse or a reason, it means they are going to commit same mistake again they just apologized for ~ Amit Kalantri
It was hard to eventually apologize and take responsibility for staying in that relationship. It was a relationship that clearly was hurting my body, mind, and spirit.
When your inner child is telling you, "I am hurting, please listen," we must change or stop what we are doing, sincerely apologize, and forgive ourselves for what we feel we may have done wrong.
I no longer feel that the wedding vows should say 'for better or worse.' Just my opinion, abuse of any kind is a dealbreaker. Establish healthy boundaries with yourself and others. It is essential for living your best life.

About The Author: Elizabeth

Elizabeth's talents go back several generations. She found her own gifts and embraced them at an early age, recognizing the difference between herself and most others around her. She's since honed and mastered many metaphysical practices, providing hypnotherapy, Psychic Mediumship, Mysticism, and Hypno-Reiki to her clients in Maine, and in areas around the US and in Canada, where she travels. A lover of pets, they are her greatest teachers and these unconditionally loving creatures often chime in on a reading in addition to the Angels, Guides and loved ones who provide resolution and answers for each of her clients. Elizabeth is also an author with much spiritual wisdom to impart and is currently working on a book. If you'd like to be a recipient of her unique Psychic Wisdom, find peace and receive answers that will also benefit your highest good, you can reach Elizabeth at Psychic Access.