Realign Your Spirit This New Year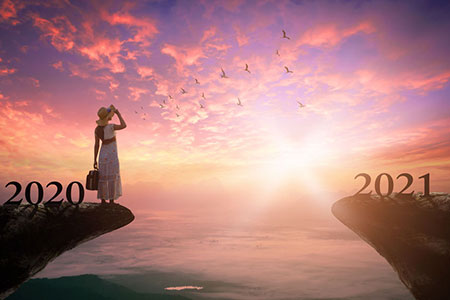 With the difficult year 2020 finally in our rear-view mirror, it is time to stop for a moment, clear our minds, hearts and spirit, and embrace the hope, happiness, well-being and prosperity that awaits us in the new year. We do not have to carry the pain and chaos of 2020 forward with us.
The first step to achieve this would be to check our alignment body, mind and spirit. Alignment is defined as the "arrangement in a straight line, or in correct or appropriate relative positions," as well as a "position of agreement or alliance." Happiness, well-being and abundance becomes blocked for us when we are not in agreement and alliance with our spirit.
Many of us have been in survival mode the past year, instead of in thrive mode. Dramatic changes in our health and wellness, career, business, finances, relationships, family and social life, and our lifestyles in general, can cause our soul energy to go sideways and out of alignment, just like being sideswiped by a car.
If you step off a curb suddenly, fall, twist an ankle, or pull a muscle, it will often put unusual stress on our spine and central nervous system. When the spine is misaligned a myriad of symptoms such as headaches, lower back pain, neck pain and numbness can manifest. Symptoms like these are the body's way of letting us know something needs to be urgently attended to.
The same holds true for our spiritual well-being. When our energy, mental processes, and emotions begin to run amuck, our spiritual alignment needs to be corrected to regain our balance. Our body, mind and spirit must all be facing the same direction for us to move forward.
Staying in alignment with Spirit enables us to bounce back quickly, stay on course and manifest happiness and prosperity in our lives. Alignment with Spirit is our natural and preferred state, and while we may find ourselves temporarily off for various reasons, we are never too far to come back.
Being spiritually aligned means discovering the essence of your being and the deepest values by which you live by. You connect to a higher source of intelligence or power, identifying with something greater than the material world ~ Tony Fahkry
Life will continue to present unexpected, and sometimes painful or chaotic circumstances and event. The purpose of our spirit is to help us navigate through these events and times.
When we are not spiritually aligned there is a tendency to stay stuck in fear, anxiety, worry, frustration, envy, anger, resentment, lack consciousness, self-pity or a victim mentality. The past year has left many of us feeling at least one, or all these emotions on some days! It is okay to allow our emotions and process them but staying stuck serves no purpose.
True change and progress are achieved by realigning ourselves with Spirit. Tapping into Spirit creates a sensation of peace, release and celebration. You can feel it in your body, in your heart, your mind and emotions. The body relaxes, the mind quiets and our life focus become clear again.
To align with Spirit, we need to connect with Spirit through a daily spiritual practice, such as prayer, meditation, oracle cards, chanting, dancing, drumming, or any personal sacred ritual or ceremony. Make this a priority in 2021.
When I'm in alignment with the Universe I feel happy and excited regardless of what my circumstances may be. I am hopeful and positive even when I face challenges. I'm not worried, stressed or focused on problems ~ Gabby Bernstein
Ideally, we should begin and end our day with spiritual activities. During the rest of your day, when frustration hits, take a moment to breathe deeply and align with Spirit.
In this new year, remind yourself who you are. You are not just your emotions or circumstances. You are here with a soul purpose, and that purpose includes access to happiness, peace, abundance and prosperity. You and your unique talents and gifts are valuable to this world in this moment in time. Use it wisely to make a difference in the coming year.

About The Author: Angelic Heights

Empathic, intuitive, psychic from a very young age, Angelic Heights (Gail) learned well the importance of using her gifts for the highest good. Marriage and a career in the paralegal field occupied her until her early 30's. Accurate, compassionate and direct, her focus now is entirely on enlightening, uplifting, inspiring and guiding those who seek her counsel. Gail believes that it is as critical to understand the energy of the people we choose to be involved with. Regardless of the nature of the issue, whether it be romance, career, business, or family, the essential needs of every client always come through clearly in her readings. She is able to hone in very quickly on major concerns and deliver accurate messages and solutions to problems. Get a reading right now with her at PsychicAccess.com