Embracing The Mirages Of Life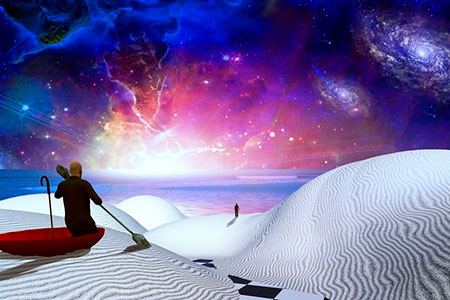 Imagine yourself walking through a hot desert, whipped by the relentless winds, and scorched by what feels like an unforgiving sun. Suddenly, a crystal-clear spring emerges in the distance. But the closer you come to this beautiful fountain, the more you realize that its calm waters are evaporating into thin air.
Taken aback, you face the reality that what you envisioned was never real or true. It was nothing more than a mere mirage. This optical illusion created by warm air near the ground refracting the light from the sky has deceived weary travelers for thousands of years.  Ancient poets even wrote verses that spoke of the delights and dangers of the mirage. Sacred texts reveal the mirage that gave hungry and thirsty pilgrims hope during long migrations or exodus.
As a spiritualist, I often receive calls from clients who have also been misled by mirages, only these mirages are not of the biblical deserts that prophets of old journeyed across. These are instead the 'mirages of life.' I often hear clients lament how everything appeared to line up so perfectly, but the outcome was an unexpected disappointment. My answer is always the same. There are times in life when on the surface everything seems to be falling into place, yet the desired outcome does not complete the story we had hoped to write.
I some cases, the seemingly 'perfect partner' stuck around for years without any proposal for marriage. In other instances, there was an awesome interview for the dream job that ultimately was offered to someone else. I could share countless examples of how expected outcomes are sometimes derailed in our world.
We have all encountered mirages in our life, as well as the disappointment and heartbreak that follow. But if you really take a step back and reflect on your past disappointments, you will soon note that Spirit always had a much better plan with your name on it. The love you thought you lost is often replaced with a better love you never imagined possible. The position you wanted more than anything was more appropriately aligned with someone else, and instead of misplacing your gifts and talents, the new job you ultimately found was much more fulfilling than you ever thought possible.
Nothing in life has happened to you. It's happened for you. Every disappointment. Every wrong. Even every closed door has helped make you into who you are ~ Joel Osteen
Mirages help us to more clearly define our destiny. They show us what we cannot see on our own. The revelation they bring into our lives helps us to determine where we should be going. There are times when we need to be moved away from the ordinary in order to become extraordinary.
Mirages offer us hope when we feel lost and without a clue. In the form of a new love interest, it motivates us to show up as our absolute best self. As a potential job proposition, it serves as a signal to improve upon our professional skills. When we fear a challenging health diagnosis, the mirage serves as a reminder to take better care of the temple that is our body.
Whatever your personal experience has been with life's mirages, accept the deeper lesson at hand. Learn to let go of all that does not serve your highest good. Do not hold on to the disappointment that a mere mirage brought to your life.
For in letting go, we open the door for opportunity to move into our lives. When we hold on to the broken relationships, the lost jobs, unhealthy lifestyles, we inevitably build a wall around ourselves that serves as fortress that staves off the golden opportunities that we so deeply desire.
Life will throw many obstacles onto our life path that will make us sad or disappointed at times. Dealing positively with these obstacles is what makes the difference between them turning into worse states or being overcome ~ Jonny Oates
Do not allow any event or circumstance to get in the way of aligning yourself with the amazing destiny and gifts you were born to express and embrace. When life's mirages misguide or confuse you, cast them aside and take center stage in your world.
Now muster that courage and breathe. Replace the mirage with your own sustainable vision. Let Spirit guide you to bring your dreams to fruition, especially as you travel across what looks like an insurmountable desert, as it too shall be crossed.

About The Author: Shawna

Shawna lives in the American Southwest and is a third generation Spiritualist and Clairvoyant. She recognized her own gifts at a young age, fully embracing her calling as a Clairvoyant, Medium, Spiritual Astrologer, Tarot Reader, Aura Reader, Water Reader, and Healer, training under the tutelage of some truly gifted mentors. Shawna utilizes her natural psychic gifts to help individuals navigate through personal challenges and discover the higher manifestations of their life paths. She's provided positive, spiritually responsible, and ethical readings in-person, over the phone, and online, and has read for clients in Los Angeles--at psychic fairs--and at the Crystal Gaze Spiritual Center, in Lakeland, FL. She is also a trained practitioner in Clinical Herbalism (University of New Mexico), Ayurveda Medicine (San Diego College of Ayurveda), and Reiki. Shawna has channeled messages for political leaders, celebrities, and has accurately predicted the outcome of national campaigns, as well as a big career opportunity for a talented actor that resulted in a Tony Award! If you'd like an enlightening and empowering, full-spectrum of guidance, you can find Shawna at PsychicAccess.com.