Take This Time To Find The Future Inside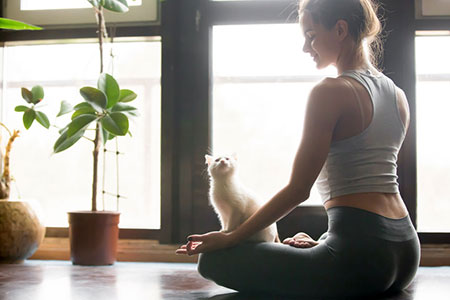 The last couple of months have brought out a variety of emotions for all of us. They reach from anger, fear, frustration and anxiety, to kindness, compassion and love. People never see things in the same way, and differing views and opinions about the Covid-19 pandemic are causing confusion, noise and heated arguments on social media, in the news, in politics and in our streets.
One cannot help but be left to wonder, who is actually telling the truth? Whose facts are the most reliable? Is certain news fake? Are some of the things we hear or see just rumors, or weird conspiracy theories? Are some purposely spreading misinformation, or exaggerating what is going on? Is the situation possibly more serious than most of us realize, or less severe than we may believe? There are so many questions right now, not many clear answers, and a lot of uncertainty.
But instead of focusing on all the chaos and drama around you, it may be wise to instead shift your attention to something more important. Especially if you are currently still quarantined at home, this is the perfect time to evaluate what is going on deep inside your soul. It is the perfect time to spend in solitude and silence, go within, and allow your soul, your inner guidance, to speak to you. And if you are sheltering with family or friends, try to find a quiet place or secret corner where you can hide away for a while every day.
Maybe there are many voices out in the world today that we cannot trust. But there is one voice we can always trust – the voice within. Each one of us has a deep consciousness that holds the answers to our fears and life questions. Each one of us has a direct connection with spirit, and this is the best time to truly allow spirit to talk to us. Are you truly listening? Or are you merely flapping your mouth, and creating more fear or anger for yourself and others?
You must find the place inside yourself where nothing is impossible ~ Deepak Chopra
Sit, be quiet in the moment, embrace the silence, and truly listen to what spirit is saying to you. Don't you sense it will be okay? Everything will happen as it is meant to, and there is truly nothing you can do to change the outcomes, other than working on a deeper connection with your higher self and inner consciousness. This spiritual connection within will bring you calm, harmony, peace and inner strength.  If you are new to this, know that the connection does not always happen the first, second or third time you try to achieve it. However when it does, you will know, without a doubt that your speaking to the eternal wisdom of your inner soul.
Spirit wants you to receive its messages and to understand them with clarity. Spirit does not get frustrated if you do not understand the first time. Spirit is love and wants you to accept that, no matter what, you are loved. Spirit will not leave you, or abandon you in these traumatic times. Spirit is asking you to connect on a deeper level, and to realize that you are important, that you are a spiritual being, and that your life has purpose and meaning.
Remind yourself to breathe deeply daily. Allow yourself to sit in silent contemplation. Whatever questions, fears or concerns you may have, surrender them to spirit to deal with. This will free you from what is currently controlling your emotional core.
This is definitely not a time to be fearful, frustrated or angry. It is a time for you to sit, write down those things that are most important to you in this moment, as well as your priorities for the future. Maybe you will realize that driving that brand new car is not as important as seeing a loved one that you have been quarantined from? Maybe you will realize that a hug is more important to you than money? Maybe you will realize that the personal connections that are so distant now, were the things that you needed the most?
You find peace not by rearranging the circumstances of your life, but by realizing who you are at the deepest level ~ Eckhart Tolle
If you are currently out of work, remind yourself that this is a wonderful opportunity to figure out what you would be doing instead, if you had your ideal job? Plan to move forward and create this – whether it is going back to school, taking online courses, using personal connections or just making more of an effort in future. Go deep, and decide where you want to be when this pandemic is over, and you have the freedom to have, do or become whoever or whatever you desire. You don't have to wait to start getting your future on track.
You will shift as you go inside more often. The more you connect with your inner consciousness, the clearer the answers will become. You will begin to know more and more what your next life steps should be.
As a final thought, I want to wish you all grace and blessings as you figure out what it is you want. If you are struggling, I am here. If you are hurting, I am here. If you are happy, I am here. I would love to hear where you are in this journey. Please know that you are not alone. We are all in this together.

About The Author: Sheri

Sheri is an international psychic and angel reader who provides clear answers on finance, career, relationships, manifesting your dreams, and working-out the kinks of life. Since 2004, Sheri is the owner on an International Spiritual Healing Centre where she runs her Reiki practice - either working on clients or teaching them the levels of Usui Reiki. She utilizes her office space for readings that are conducted via mail, phone, chat or live. Since 2008, she's honed her gifts on various psychic service websites, where she's provided telephone, chat or email readings. She also works on a spiritual network for people who have suffered horrific loss, applying her own first-hand experiences with such tragedies. Sheri's work has been described as honest, compassionate and life-transforming and she would like to see all of her clients soar free to a higher level of spirituality and growth, and exponentially change the world to the best it can be. You can get a psychic reading from Sheri at PsychicAccess.com.


This site uses Akismet to reduce spam. Learn how your comment data is processed.