The Truth About Life's Choices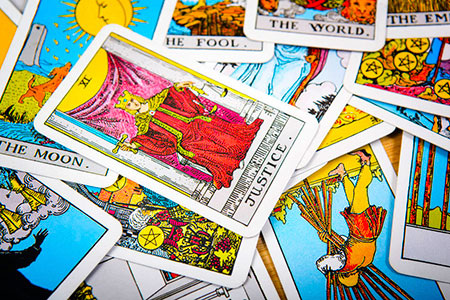 There are certain cards in the Tarot that are more commonly associated with our life choices. The Two of Swords, Two of Wands, Two of Pentacles, and Justice, to name just a few. Many other cards also indicate choices we have to make, and where these cards fall in a layout will often influence the direction of the Tarot reading itself.
Choices and decisions are present in almost every good psychic reading. When we are faced with challenges or opportunities in life, it almost always presents itself in the form of a choice. But there is a lot more that goes into making wise choices, other than simply weighing out the 'pros and cons.'
During a psychic reading, your advisor can usually see what is at the root of the situation, including your own intentions and the motivations of others. Your reader can also verify what decision will support you on a soul level, as well as in your best interest and for your highest good.
Often, what feels right to your mind, is wrong for your heart. A great example of this is when you are considering taking a job offer that has a high pay scale, but is not a good fit for your skill set, or what we really enjoy doing.
Making the right choices in life is actually what prompts most people to call for a psychic reading. We all want to know if we are seeing our current scenario through a clear lens, as well as get a glimpse into the future, to see which choices will lead to the best outcomes. These types of choices are typically clear-cut, and they have to be made, such as deciding about a new job, choosing a place to live, or taking things to the next level in a romantic relationship.
Destiny is no matter of chance. It is a matter of choice. It is not a thing to be waited for, it is a thing to be achieved ~ William Jennings Bryan
However, there are also times in readings when you think you need to make a choice, but in reality, you do not need to make one yet. In these cases there is usually an invitation to go deeper within, to access a higher knowing and to connect with your intuitive self and soul wisdom.
This happens quite often when our emotions are peaked, or we get frazzled about something that has upset us. For example, you may be dating someone and everything was going fine, and then one day your partner stops paying you as much attention as he used to. You begin to wonder if it was something you said, or did, and jump to conclusions about how you now need to make an immediate choice of whether to continue dating this person, or not.
What I've often seen, in situations like this, is that can be as simple as the other person merely needed some space for themselves, or have some new stress in their life. And if it is true that they have been focusing on someone else, it's often better to allow your intuition and wisdom to lead, rather than flying off the handle and starting up an argument with them.
It can be very wise to let some time go by, before one rushes into a bad, premature decision. If at worst, the person you are worried about is doing something 'wrong,' you will be shown, either through a reading, or life itself will reveal clues. The truth is always revealed in the end. In many of these cases, we do not need to make an immediate decision about the future of the relationship.
We are the creative force of our life, and through our own decisions rather than our conditions, if we carefully learn to do certain things, we can accomplish those goals ~ Stephen Covey
The Universe, Goddess, God, Source, the Divine, often has an unbelievably brilliant way of working things out for us, when we simply choose to do less. Ironically, when we give things time and space to 'brew,' so to speak, the real truth can more easily come to the surface, and then there will be no need for a choice to be made. All we needed to do was simply wait and see what happens. Let go, and let God.
Of course, there are many instances where we do need to work things out with another person, but far too often, being more patient and allowing some time and space can bring greater clarity, as well as prevent unnecessary strife and heartache. Another common truth about choices is also this: If you can't make a choice, it's not time to make a choice!
Our path in life is filled with many twists and turns. There will always be others to guide you along the path, but sometimes it's nice to stop and smell the roses by the wayside and to allow room for Spirit to be more present in your life. This way, when important life choices present themselves, you're calm, clear, and ready to respond in the right way. Then, when the Two of Swords, Two of Wands, Two of Pentacles, or Justice cards show up in your reading, you can better navigate with your psychic advisor the best choice possible.

About The Author: Isadora

Known as The Psychic's Psychic, since 1998, Isadora has read for thousands all over the world, her impressive list including clients from the Obama administration, Fortune 500 CEO's and notable names in Hollywood. Her detailed (Gemini) accuracy is nothing short of astounding, with her ability to see people at the Soul Level and clearly answer questions on a wide range of subjects, from relationship matters, business decisions, to past lives, etc.—anything that requires clear answers and pin-point insight. She has the ability to identify hidden patterns that run beneath your current situation, providing you with information to positively change your future. If you'd like a reading with this compassionate, straight forward, laser-accurate and dedicated Psychic, you can find Isadora at PsychicAccess.com.