Connecting With Deceased Loved Ones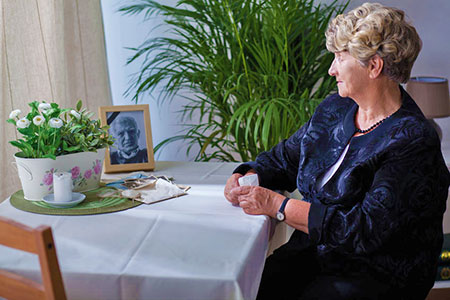 When a loved one dies, it is never easy. It is always traumatic to lose someone who we have lived with, taken care of, loved and nurtured – be it a partner, spouse, parent, sibling, relative or friend. The feeling of them suddenly no longer being here can be devastating. Even their little quirks, which sometimes annoyed you when they were alive, is forever missed. We suddenly miss everything about them!
Thankfully, the spirit of those we love remain very much alive after their passing. Despite the 'vehicle they drove around in,' namely their physical body, may no longer be around, their spirit is still around. They can hear and see us, and they can feel our emotions.
I can tell you that when we call our loved one's name, they are with us. When we pray for them, they appreciate it. Greatly. The two best things you can do is pray for your loved ones and say their name out loud. Continue to talk to them. And when you  talk to them, they respond through sending you thoughts and signs. They also come to us in the dream state when we are sleeping. Write them a letter and put it under your pillow, and try to remember your astral travels the next day.
Your loved ones are never far from you. Love is the energy that keeps us connected with our loved ones. Sometimes they will give you a little visit. Remember to ask and you shall receive. Knock and that door will open.
Those we love and lose are always connected by heartstrings into infinity ~  Terri Guillemets
Connecting with our loved ones who have crossed over is very easy to do. Remember, just because you don't get a sign now doesn't mean you won't get a sign later. Keeping your mind free of drama and chaos helps to free up the space to allow us to connect with our loved ones much more easily and smoothly.
I like to light a candle, have a picture or something that they loved near, and then I just call out their name and talk to them. I often remember then things I had forgotten, which they shared with me, and I get new messages easily from them. Having a notebook handy to jot things down is always good.
Our loved ones are never far from us. If they reside in your heart, you can dial them up any time by just saying their name or thinking about them.

About The Author: Moon Goddess

Moon Goddess is a third generation empathic healer and seer. She started to give healing readings to people more than 20 years ago. She has always been interested and studied all things metaphysical from a young age. Being hypersensitive she can feel and see things before they happen. Utilizing the Tarot, and with the help of her Guides, she is a source of support for many people all over the world. After he passed over, her grandfather kept his promise and came back to say goodbye and gave her the most amazing experience. Moon knows there truly is a Heaven, and it is wonderful! Sharing her experience has helped many people after they have lost someone, or anyone experiencing some form of grief. Get a reading with Moon Goddess now at PsychicAccess.com.


This site uses Akismet to reduce spam. Learn how your comment data is processed.