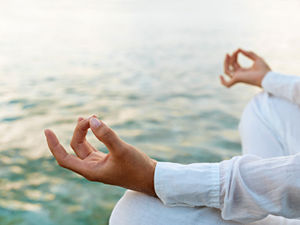 When we are able to control our response to any outside stimulus, we can more easily link in to subtle frequencies, enabling us to connect to the source of our being and to our own spirit guides.
To reach an inner sense of calm we need to still our thoughts. As our thoughts run haywire we can observe the pattern and try to ascertain why they run wild, and then attempt to bring them back to center and silence them.
If you are planning on developing this technique of stilling your mind for whatever reason, be it to connect with your spirit guides or just to be peaceful, keep at it without expecting immediate gratification. The process does take time, but is well worth the effort. Apart from assisting with your spiritual journey, the process will increase your energy levels, sharpen your thoughts and increase your sense of well-being.
There is a saying, "To remain silent is also an answer". There are occasions when we are confronted with a tricky question or we find ourselves in a confrontational situation and we beat ourselves up to find a prompt reply or action. Either delaying our response or saying absolutely nothing is often the best option for us, whilst we silence our thoughts and find the best answer in that sacred space.
Silence is the great teacher, and to learn its lessons you must pay attention to it. There is no substitute for the creative inspiration, knowledge, and stability that come from knowing how to contact your core of inner silence ~ Deepak Chopra
How To Find Your Silent Space
Find a time and place where you are least likely to be interrupted – the quieter the better should you wish to be aware of subtle energies around you.
If you are able to choose a specific time every day, you will be forming a healthy habit and you can begin with going into the silence for as little as five minutes a day, increasing the minutes and benefits.
Sit upright in a chair – you are not meant to give you body signals that it's time to sleep. Keep your feet flat on the floor and relax your arms.
Breathe in through your nose and let out a long breath through your mouth.
After five of these deep breaths, begin focusing on the 'stillness'. Allow daily thoughts to float past you.
This is a good time to do visualization or to pose a question to yourself.
When you are ready to leave this quiet place, bring yourself back with a deep breath.
You might want to write down any inspiring thoughts or guidance which came up in that silent space
PsychicAccess.com.


Shani is a qualified practitioner in Reiki, aromatherapy, reflexology, body spin, and animal telepathy who received psychic development training at the Arthur Findlay College of Psychic Research in England. A published writer, her articles and predictions have appeared in several respected magazines and on psychic websites, and she has read for many celebrities and even heads of state in Africa. Though she was born in London, Shani has traveled the globe and has studied the art of African Mysticism, bringing her unique flavor to those seeking her incredible talents. Get a reading with Shani at
One Response to "Finding Your Silent Space"