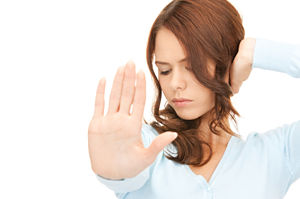 Our fears can cause us to miss out on a lot of experiences and opportunities. Don't let your fears rob you of your life. At the same time don't mistake your not wanting to entertain certain people, or put yourself in certain situations, as a sign of fear. Give that up right now!
There is a huge difference between not doing something out of fear and simply not wanting to do something, because you just know it is not the right thing to do for you and it is not serving the greatest good in your life.
It is important to protect our energy field from negative, draining people. It can actually be unhealthy for us to force ourselves to do things we don't want to do. We need to move through life with caution. Paying attention to our internal guidance system or intuition can help with this. To me that is God taking to me from within. I listen to my inner guidance all the time and it saves me a lot of time and energy. It also keeps me from saying, "Shoot, if only I would have listened to that inner voice!"
Half of the troubles of this life can be traced to saying yes too quickly and not saying no soon enough ~ Josh Billings
When we decide to say, "No thank you" or "Sorry, I don't feel comfortable doing this or that", there will always be closed-minded people that will accuse us of being 'fearful'. Why? Because they of course want us to do what they think we should.  There is a simple way to deal with people like that. You simply release the desire to exert any energy to accommodate these people, by justifying your reasons for not wanting to do whatever it may be.
It is not your job; it's their job to find their own enlightenment in their own way and time. What may be right for you may not be right for them. We are all on different vibrational frequencies, levels of awareness, and soul growth. Thank goodness for that, because wouldn't it be boring if we were all the same? Keep attracting like magnets those who are on the same life path and keep letting yourself bounce off of those that you don't connect with – either way it's all good!
PsychicAccess.com.


Moon Goddess is a third generation empathic healer and seer. She started to give healing readings to people more than 20 years ago. She has always been interested and studied all things metaphysical from a young age. Being hypersensitive she can feel and see things before they happen. Utilizing the Tarot, and with the help of her Guides, she is a source of support for many people all over the world. After he passed over, her grandfather kept his promise and came back to say goodbye and gave her the most amazing experience. Moon knows there truly is a Heaven, and it is wonderful! Sharing her experience has helped many people after they have lost someone, or anyone experiencing some form of grief. Get a reading with Moon Goddess now at
One Response to "It's Okay To Say No!"