Yoga And The Tarot Archetypes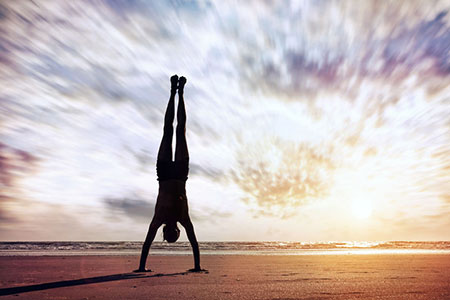 When I'm not doing psychic readings, I enjoy engaging in activities that support a healthy lifestyle, such as Yoga and Herbalism. Although I spent many years training with Yoga masters from around the world and I am a certified Yoga instructor, I continue to learn more each time I get onto the mat.
While practicing the other day, I found myself thinking about the Tarot cards while in a particular yoga posture. It was the asana known as the Hero's pose, or Virasana. The pose involves kneeling or sitting in between your bent legs.
As I was sitting in this stretch, I was wondering how the posture got its name, which comes from the Sanskrit word vira meaning 'hero.' It occurred to me that a hero was someone who had to think of someone else or others in that moment more than themselves. When we are pushed to our edge, in that moment of vulnerability, it makes us stronger. The same humility can be found in certain Yoga postures.
Then the Emperor card from the Tarot deck came to mind. The Emperor in a reading can show a ruler or leader who is strong, confident, and who guides others. Might there be an ancient connection with Yoga and the Tarot?
I then began to think of other Yoga postures and how they might correlate with the other Major Arcana cards in the Tarot.
The first that came up for me was The Hanged Man. This iconic card features a figure hanging upside down from a tree. Hanging from a tree in this way would certainly make one see the world from a different perspective. Interestingly, the headstand pose in Yoga, Sirsanasa, aims to create mental balance and physical poise.
The real voyage of discovery consists not in seeking new lands but in seeing with new eyes ~ Marcel Proust
The common thread that I now see with Yoga and the Tarot archetypes is that when we step outside our comfort zone and everyday reality, of always seeing things in the same way, greater wisdom and personal growth can be achieved.
When we do something like a Yoga pose to challenge our body and mind, something greater opens up within us that becomes a gift to not only us, but to the world at large. And similarly, the Tarot encourages us to perceive our world through a different lens and open up to new ideas and challenges.
The Minor Arcana, the remaining 56 cards aside from the 22 Major Arcana in a standard deck, portray the everyday experiences of life. Might the 22 Major Arcana archetypes hold the answers to the Minor Arcana, in that they give advice or provide an example of how to better deal with the dramas and pitfalls of life?
Look at everything as though you are seeing it either for the first or last time, then your time on earth will be filled with glory ~ Betty Smith
I believe Yoga and the Tarot both serve as a guidepost or roadmap for us on how to handle life's challenges more masterfully. If we step outside our comfort zone and let go of worrying so much about our personal problems, and instead see them more as the universal problems of humanity, we can follow the wisdom gifted to us by the ancients.
I am now working with daily yoga postures and exploring which tarot cards they might correspond with. It has not only broadened my scope of learning, but makes for great discussion too.

About The Author: Isadora

Known as The Psychic's Psychic, since 1998, Isadora has read for thousands all over the world, her impressive list including clients from the Obama administration, Fortune 500 CEO's and notable names in Hollywood. Her detailed (Gemini) accuracy is nothing short of astounding, with her ability to see people at the Soul Level and clearly answer questions on a wide range of subjects, from relationship matters, business decisions, to past lives, etc.—anything that requires clear answers and pin-point insight. She has the ability to identify hidden patterns that run beneath your current situation, providing you with information to positively change your future. If you'd like a reading with this compassionate, straight forward, laser-accurate and dedicated Psychic, you can find Isadora at PsychicAccess.com.