Earth Angels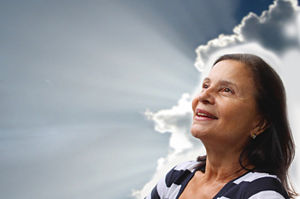 When I was very young, I remember being in our living room around Halloween time. It was very, very late in the evening and I can't remember what compelled me to go over to the window. I remember the drapes were closed and I remember pushing it to one side and just looking out. I saw something that night I would never forget.
It looked like a very old women with white hair. She was holding something in the front yard, which looked like a glowing stone of some kind. She just stood there and it was very, very late. This seemed very strange to me. I remember feeling not scared, just very comforted and interested to at the same time. I remember her turning around, almost as if she saw me, but she just bent down and put this glowing rock or something on the grass and then began to walk away. I will never ever forget this as long as I live.
Angels descending, bring from above, Echoes of mercy, whispers of love ~ Fanny J. Crosby
Twenty years later, I was at the checkout in the supermarket and I noticed what looked like a lady that came from the 20's era. She just seemed to be different. There was an air about her that told me that she is a very special, unique soul. We are all unique, but this lady was definitely not from around here!
She approached me and told me that I was beautiful, and she seemed to say some other things… but telepathically. It's like I knew her, but I didn't. I remember she smiled at me and I looked at her and smiled back. I then got in my car after we walked out together. I watched her closely as I slowly pulled out of the parking space. Then she vanished.
I just passed it off as my imagination and thought, "hmm, that was strange", and got right back into my life, which seemed all too important to me at the time. So, I quickly let that experience fade into the back of my mind.
I saw her again several years later. I no longer had short, platinum blonde hair. I had decided to dye it black and wear it long. I used to get bored and would reinvent my look every now and again. I was sitting at a bar with friends and just had a very familiar feeling come over me, almost as though I felt a presence. I looked up and sure enough… here before me was the same little old lady who approached me years before.
The golden moments in the stream of life rush past us and we see nothing but sand; the angels come to visit us, and we only know them when they are gone  ~ George Elliot
She smiled at me and I just was so happy to see her, because I had thought about her from time to time and always would recall the strange experience. I again got a feeling of comfort and joy and she said some words that I cannot remember for the life of me, but it was something that my soul needed to hear. It just felt so good and was such a positive exchange, that I couldn't help but feel so happy after seeing her. She walked away and I looked at her one last time. Then she wasn't there, she had vanished again. I cannot for the life of me understand who or what it was truly all about.
Today, as I look back I have to recall a few others that have come in and out of my life, to help shed light along the way and maybe just give an encouraging word to help keep me on the right path! They would just say or share some gem of info that I just needed right then. I have always been mystical, but never before had I ever experienced an encounter with an earth angel.
I believe there are enlightened beings that walk the earth and help give guidance to those who are open to such an encounter. It can not only be rewarding spiritual experience, but also emotionally. It can give you exactly what you need when you need it, though sometimes it is nothing more than a look, a few words that seem to not be of this world or maybe something that just raises your vibration, because you were open minded enough and not so brainwashed in that this is all there is.
There are other dimensions and other worlds out there, and for us to think that we are the ones with the best technology and most advanced is just silly. I believe there are other beings that are a thousand times more evolved than us and that there are angels here to help us in big and small ways, as a people and planet.
Have you seen an angel recently? If not, maybe you have and just not realized it.
About The Author: Moon Goddess

Moon Goddess is a third generation empathic healer and seer. She started to give healing readings to people more than 20 years ago. She has always been interested and studied all things metaphysical from a young age. Being hypersensitive she can feel and see things before they happen. Utilizing the Tarot, and with the help of her Guides, she is a source of support for many people all over the world. After he passed over, her grandfather kept his promise and came back to say goodbye and gave her the most amazing experience. Moon knows there truly is a Heaven, and it is wonderful! Sharing her experience has helped many people after they have lost someone, or anyone experiencing some form of grief. Get a reading with Moon Goddess now at PsychicAccess.com.


This site uses Akismet to reduce spam. Learn how your comment data is processed.