The Magical Possibilities Of 6,000 Thoughts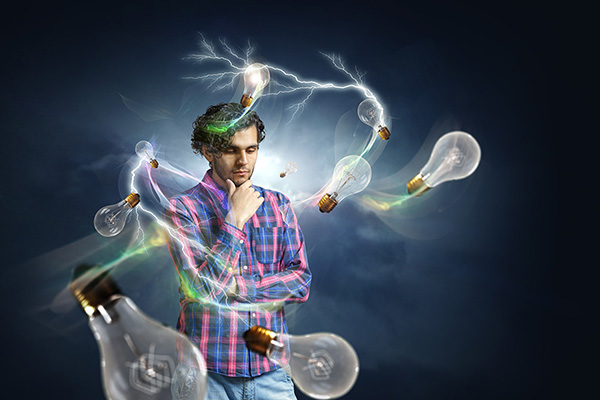 According to a 2020 study at Queen's University in Kingston, Ontario, we have more than 6,000 thoughts a day. From a spiritual perspective, this is fascinating, but also potentially troublesome.
Those of us who are metaphysically aware know that our thoughts create our reality. Not only do our positive or negative thoughts determine what will manifest in our lives, but also how we choose to feel and act based on those 6,000 daily thoughts!
In addition, we tend to have lingering thoughts and nagging worries that we obsess over throughout the day. The more we repeat those same toxic thoughts, the more they gain energetic momentum and manifesting power. Thoughts are energy vibrations, and thoughts become things.
We all have the innate spiritual freedom to act of our own free will. Every thought we have comes with choices and options. It can range from a simple decision to stop thinking a particular negative thought…to making a life-changing decision.
Unfortunately, most people make the same choices over and over again. They stick with what is safe, comfortable, familiar, or predictable, while ignoring the other options that may be open to them. This is often how we get stuck in comfort zones, or struggle to manifest the things we dream about.
In order to manifest new things and invite change into our lives, we must carefully examine our thought patterns and habits. If we choose the same responses and actions to the same thoughts every day, we cannot expect to move forward, or create a new reality. Often the problem is not the thoughts we think, but how we choose to feel and act in response to those thoughts.
The universe doesn't give you what you ask for with your thoughts – it gives you what you demand with your actions ~ Steve Maraboli
To manifest personal transformation we must begin to think, feel and act as if we are already the person we want to become. We must turn our ideas and hopes into clear goals and deliberate intentions. It is a magical, self-empowering way to live, instead of repeating the same old patterns and staying in the same comfort zone.
Don't just think about things you want to attract or achieve. Start thinking, feeling and acting like the person you envision yourself to be. Take action steps today to begin to match those ideas and thoughts and move your life forward. Small steps will eventually make a big difference. The Universe will guide you along the way.
You have over 6,ooo thoughts to choose from every day. Imagine the magical possibilities if you chose to act differently in response to just a few of them.

About The Author: Amy

Amy resides in Arizona, but through her extensive travels, she has accumulated much knowledge and love for other cultures. She is a member of the Southwest Tarot Readers Association and follows her local Arizona chapter of Astrology. Amy has been a featured guest on metaphysical radio shows, she's provided readings at conferences and corporate events, has delivered lectures on developing your own psychic abilities, and she has shared her expertise on Tarot and Astrology, having earned her certification in both disciplines. Amy grew up seeing orbs and feeling energies but brings over twenty years of practical experience to the table as an accurate Psychic, Tarot Reader, Astrologer and Medium. She has read for hundreds of clients, including one very high-profile crooner! She is always expanding her metaphysical tool belt, offering her clients many delights on her magical menu, including channeling, dream life interpretation, crystal healing, and past life exploration. If you'd like a powerful reading that will also empower you to lead a happier, more rewarding life, you can find Amy at PsychicAccess.com.