When A Psychic Tells You The Unwelcome Truth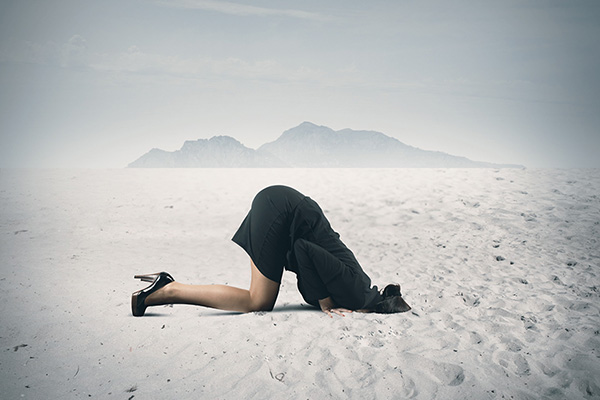 A psychic who works with integrity conveys to her clients the truth of what she receives from spirit. These messages do not always meet the expectations of what a client may want to hear, but it will always be what they need to hear.
For example, if you have been clinging to a toxic relationship or remain stuck in a dead-end job, your psychic most likely will receive information from spirit to advise you to move on. God, Source, Spirit, the Divine knows what is best for our highest good, even when we choose to believe the opposite and remain in denial.
One of the most important lessons I have learned over the years as a professional psychic, is to always trust whatever information or guidance I am given, even if it makes no sense to me personally and it is also not what the client is hoping to hear.
Ethical psychics and mediums never tell someone what they want to hear simply to appease them. Sugar-coating the truth does not serve the client's highest good in the long run. Instead, it just prolongs their unhappiness and misery.
Several years ago, I did a series of readings for someone who was madly in love with someone that she had moved across the country to be near. She had placed her entire life on hold, gave up many good things in her life, and relocated…even though he was married. He had told her how much he loved her, made many promises, and confirmed repeatedly that he wanted to be with her. He even encouraged her to give up everything and move closer to him, for them to be together.
Life has taught me not to shoot messengers, no matter how bad and discouraging the news. It is more important to pay attention to those crafting the message! ~ Louis Yako
Unfortunately, I had to be the bearer of bad news. I was shown from the beginning of the relationship that he will never have any real intention of leaving his wife to be with her. She was of course not happy to hear this!
It is however understandable why she was so deeply in denial.  He was a sweet-talker, a love-bomber, a smooth operator. He paid her apartment rent, took her on exotic trips, and bought her luxurious gifts. Why would he not leave his wife as he had promised? But spirit confirmed time after time: he had no intention of truly being in a committed relationship with her.
This 'situationship' went on for several years, and nothing ever changed. She was a beautiful young woman who gave away her heart to someone disingenuous, who knew just how to say all the right things and do all the right things to keep her hanging on indefinitely. Every time I advised her that he had no intention of ever leaving his spouse, she would get upset and not talk to me for several months, only to contact me again, and get angry again, time after time.
The most frustrating part for me was that she would often tell me that she had consulted another psychic, who said the exact opposite. Yet, despite the many favorable predictions of the 'other psychic,' nothing changed. I would ask her, "Has he left his wife yet?" And the answer was always, "No, not yet, but I know he will."  She was convinced in her heart of hearts that they were meant to be together and that he was her soulmate, as confirmed by the 'other psychic.'
One day, she could not take it anymore.  So, she paid his wife a visit to explain to her that he belonged with her instead, and not the spouse. She thought this would immediately resolve the problem and enable him to be with her on a full-time basis. Well, she finally got her true answer.  Not only did the wife inform her that she was just one of many girls that he had been seeing, but she had no intention of leaving him.
When left unchecked, denial can be incredibly toxic if it prevents you from dealing with problems or issues that demand immediate action or change, especially when those problems or issues are affecting your life in an unhealthy way ~ Ken Seeley
When he found out what she had done, he stopped paying her rent, stopped seeing her, and totally shut her out, leaving her with no choice but to move back to the state she originally came from. It left her broken, realizing that she had spent almost a decade of her life waiting for something that was never meant to be.
Shortly after that, the call came; the kind of call I have received many times in my career. "I'm so sorry that I did not believe you. Everything you said was right. I wish I had listened to you."
This story does have a happy ending however. After about a year or two of clearing the baggage, shadow work, finding healing, and forgiving herself, as well as Mr. Smooth Operator (not to his face, but to Universe), she finally met the love of her life, got married, and now has a family. Her life is truly good now and finally resembles what spirit had always attempted to steer her towards.
The next time a reputable psychic tells you something you did not want to hear, trust that there is good reason for it. Accept the guidance and trust that God, Source, Spirit, the Divine has something better in store for you. You deserve to be happy and live your best life. Allow it to come in.

About The Author: Sheri

Sheri is an international psychic and angel reader who provides clear answers on finance, career, relationships, manifesting your dreams, and working-out the kinks of life. Since 2004, Sheri is the owner on an International Spiritual Healing Centre where she runs her Reiki practice - either working on clients or teaching them the levels of Usui Reiki. She utilizes her office space for readings that are conducted via mail, phone, chat or live. Since 2008, she's honed her gifts on various psychic service websites, where she's provided telephone, chat or email readings. She also works on a spiritual network for people who have suffered horrific loss, applying her own first-hand experiences with such tragedies. Sheri's work has been described as honest, compassionate and life-transforming and she would like to see all of her clients soar free to a higher level of spirituality and growth, and exponentially change the world to the best it can be. You can get a psychic reading from Sheri at PsychicAccess.com.