Be The Star Of Your Inspirational Story This Year!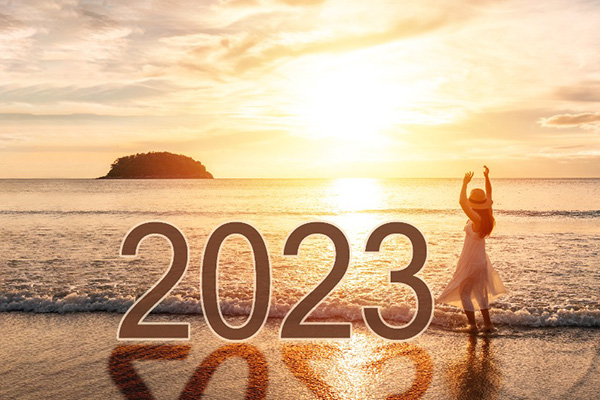 As we enter a brand new year, it is essential that we optimistically turn a page in our book of life today to embrace an entirely new chapter! The past three years have been challenging for all of us in many different ways – all the more reason to dream bigger and reach higher in 2023.
Some of us are very determined to make up for lost time and have already made clear resolutions and set bold intentions for the coming year, while others may not yet know for sure what should be next to unfold in their life journey. Staring at the blank first page of a supposedly 'new chapter in your life' can be daunting, especially when true inspiration seems untenable.
Yes, thinking more positively about our life goals and dreams can at times be very difficult, especially when things have been tough for a long time or you have been stuck in a rut.
Emotional challenges like anxiety, grief and depression can cloud our ability to envision a better life, and the notion of dreaming about a better life can feel like a frivolous luxury or a pointless waste of time. It becomes challenging to clearly identify your goals and explore new dreams when you can no longer remember the last time good fortune smiled at you, or when last your own needs took center stage in your life, before that of others.
Whatever the cause, the struggle to move beyond such an impasse will always become very real when our pause buttons eventually light up. As creative spiritual beings in physical form we will eventually always want to break free from whatever rut or comfort zone we may find ourselves in.
Every great dream begins with a dreamer. Always remember, you have within you the strength, the patience, and the passion to reach for the stars to change the world ~ Harriet Tubman
This is where the good news comes in: as spirit beings each of us have the powerful ability within to imagine, envision, create and manifest our own life story. No matter how hopeless life may sometimes seem or how challenging the world outside may appear to be, we are innately guided by an inner voice connected to the higher power of the universe.
Deep within your soul, where the in-dwelling presence of universal life exists, there is an untapped reservoir of creative power that can be accessed through even the slightest spark of hope. This divine presence within has a sacred voice calling us to become mindful, present, fluid, hopeful, creative, spontaneous, joyful, bold, and brave. This holy inner voice reminds us that we each have the capacity to keep growing, expanding and evolving and the birthright to live an abundant, joyous, fulfilled life.
Simply by finding some stillness in our daily life, we can tune in to the whispers of the divine within that beckon us to move beyond complacency. The inner guidance of our higher self challenges us to break free from stagnancy and self-doubt. Each new day offers us the gift of refining and improving our lives in myriad ways.
Whatever goals you may wish to achieve in your life, clearly envisioning the life you want is the first step towards success. Once your dream becomes crystal clear, you can then set yourself up for success in the new year with decisive action and drive.
Twenty years from now you will be more disappointed by the things you didn't do than by the ones you did. So throw off the bowlines. Sail away from the safe harbor. Catch the trade winds in your sails. Explore. Dream. Discover ~ Mark Twain
Here are some tips for making and keeping your New Year's resolutions:
Goals. Be bold and create goals that bring you immense joy. Choose unique goals that are also relevant to where you are in life.
Steps. To avoid feeling overwhelmed, break down larger goals into smaller, more manageable steps. This action will encourage you to remain motivated as you move through each step along the way toward achieving your ultimate goal.
Strategies. Seek out creative and practical strategies that will work best for you. Whether it's planning your day, setting reminders on your digital device, or journaling to track your progress, determine what works best for you and be consistent. Make it as easy on yourself as possible from the outset.
Persistence. Be patient, persistent, and flexible. Setbacks, obstacles, and challenges can and will occur at any time along your path to success. The key is to never allow any setback to stall your progress when things don't go exactly as planned.
Spirituality. Your daily spiritual practice will ensure you are constantly supported, guided, and protected on your path to success, even on the most difficult days. There is not right or wrong way; simply find something that best suits your personality, beliefs, and lifestyle. Affirmations, prayer, meditation, chanting, dancing, journaling, visualization, and divination are just a few examples.
With time and persistence, you'll be well on your way to making 2023 a wonderful success. Today is the first day of the rest of your life. Choose to be the star of your own inspirational story this year!

About The Author: Shawna

Shawna lives in the American Southwest and is a third generation Spiritualist and Clairvoyant. She recognized her own gifts at a young age, fully embracing her calling as a Clairvoyant, Medium, Spiritual Astrologer, Tarot Reader, Aura Reader, Water Reader, and Healer, training under the tutelage of some truly gifted mentors. Shawna utilizes her natural psychic gifts to help individuals navigate through personal challenges and discover the higher manifestations of their life paths. She's provided positive, spiritually responsible, and ethical readings in-person, over the phone, and online, and has read for clients in Los Angeles--at psychic fairs--and at the Crystal Gaze Spiritual Center, in Lakeland, FL. She is also a trained practitioner in Clinical Herbalism (University of New Mexico), Ayurveda Medicine (San Diego College of Ayurveda), and Reiki. Shawna has channeled messages for political leaders, celebrities, and has accurately predicted the outcome of national campaigns, as well as a big career opportunity for a talented actor that resulted in a Tony Award! If you'd like an enlightening and empowering, full-spectrum of guidance, you can find Shawna at PsychicAccess.com.