Enlightenment Is For Everyone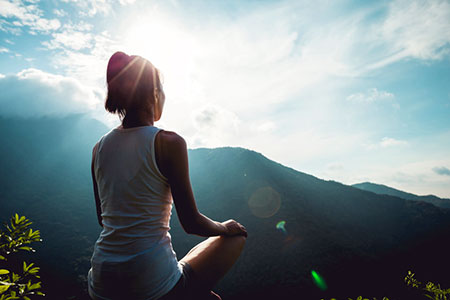 The term 'enlightened' seems to be everywhere these days. But what does it really mean? From a spiritual or metaphysical perspective enlightenment simple means refers to our level of awareness. Enlightened people are deeply aware – of themselves, the world around them, of the realm of Spirit
In a world of increasingly empty noise and superficial values, true awareness has become a rare commodity. It's easy to immerse ourselves in all the empty noise and meaningless materialism. It's much more challenging to look at the things of this world with greater depth and see these things (and yourself) for what they really are.
When we begin to see more clearly and authentically we become more enlightened. We begin to see the light of truth. And when we do, we become more aware how our beliefs, choices, and actions all have consequences.
For example, you might be tempted to answer with harsh words to someone who has wronged you, or to swat a spider in the sink rather than take it outside. Each one of these actions, no matter how small, radiates outward and impacts the world around you.
Choosing peaceful or harmonious action is a vital step on the road towards enlightenment. Stop to think, before you act.
Another common thread in the fabric of enlightenment is lack of attachment. In many spiritual traditions, including Hinduism, Buddhism and Jainism, unhealthy attachment is seen as the root of all human suffering. This could be an attachment to material wealth and possessions, to beliefs and ideas, to people and animals, or to our memories and our ego.
Enlightened people are able to release attachments that are not serving their best interest and highest good by letting it go gracefully. If you spend less time worrying about these earthly fixations and obsessions, your spiritual inner being will naturally start to flourish. And once it does, you'll become more aware of the signs, synchronicities, and subtle messages the Universe sends us all the time.
Enlightenment is always there. Small enlightenment will bring great enlightenment. If you breathe in and are aware that you are alive – that you can touch the miracle of being alive – then that is a kind of enlightenment ~ Thich Nhat Hanh
Letting go of attachments also give us the power to conquer our deepest fears and anxieties, including the fear of death. Imagine unhealthy attachments in your life as heavy weights attached to your feet. When we free ourselves of those weights, we can run and jump freely, the way we were meant to. People who find this level of inner truth become more healthy physically, mentally, and spiritually
Above all, enlightened people are fully themselves and true to themselves. They are able to grow and prosper spiritually and live an authentic life. The enlightened no longer feel the need to hide behind a pretense or false values. Enlightenment means truly living, and not apologizing for oneself.
Enlightenment is not reserved for a select few only, but it's certainly not something you can simply buy or achieve with zero effort and commitment. It is also a journey, not a destination. If you have no idea where to begin, start by simply becoming aware of your breathing. There are many simple breathing exercises anyone can do just about anywhere.
Below all mental symbols, noise and manipulations, there lies only one thing: Awareness. And the Awareness that looks out your eyes, is the same Awareness that looks out your neighbors ~ Wayne Wir
Another good starting point is to spend more time outdoors in solitude and quiet contemplation. If you don't have a pet, consider adopting one. Animals bring us closer to our truth, and to God, Spirit, Source, the Divine. Most of all find ways to be of service to others. Be charitable, lend a helping hand, or become a volunteer. By increasing others' positive energies, we are increasing our own also.
The most important step is to adopt a daily spiritual practice. Whether you choose to do breathwork, meditation, chanting, prayer, mandala, candle magic, divination, singing and dancing, shadow work, dreamwork, channeling, journaling, affirmations, or practice a religion, does not matter. What matters is that you find ways to explore your inner spiritual being and build your connection with the Divine and the Spirit realm. It's all about becoming more aware every day and learning new ways to be authentic, connected, and spiritually healthy.

About The Author: Mystic Shelley

Mystic Shelley is a Psychic Medium. She has been reading for over 15 years helping and guiding people. She uses my 8 spirit Guides during her readings. She reads in the area of love, relationships, career, money and all matters of love. She will give you only honest and direct answers. Get a reading with Mystic Shelley now at PsychicAccess.com


This site uses Akismet to reduce spam. Learn how your comment data is processed.