Reclaim Your Energy For Financial Prosperity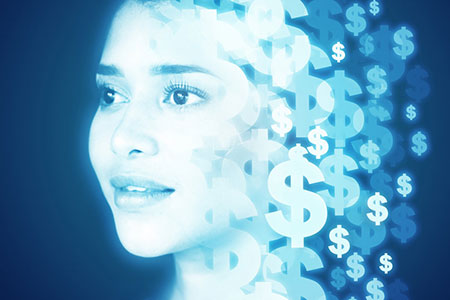 You may be surprised to learn that I find doing readings about money and finances to be no different from doing a love or relationship reading. In my experience, how we handle money is usually exactly the same as how we operate in relationships and how we ultimately treat ourselves and others. How we earn and spend money is also how we love ourselves and others. In the end it is all about how we manage our personal energy.
For example, if you constantly find yourself in overwhelming debt, consider how you operate in your relationships. Do you feel as if you give, and give, and give, and rarely get anything back? Do you feel as if you are always pursuing relationships and they are unwilling to commit? Is it typically an 'on again, off again' scenario?
Now consider how this also reflects in your money matters and financial management. Do you find that as soon as you have money it is already spent? Is it continuously flowing out? Do you struggle to hold on to, or build any savings? The deeper truth is that this constant 'scarcity' or 'lack' is the result of a fear of owning our power.
Do a simple exercise by becoming quiet and centered. Calm your mind and body and then call on your angels and guides. Ask them to show you what it would feel like to hold on to just ten percent more of your energy. Increase this every day for ten days and you will now know what it is like to hold on to hundred percent of your energy!
Once you have reclaimed all your energy, ask your spirit helpers to teach you how to carry this newfound sense of personal power into your daily life. If you are like many of my clients, you will soon find that both your financial priorities have shifted. You will be making less impulse purchases and find yourself saving for the things that are more in alignment with your higher self.
You must gain control over your money or the lack of it will forever control you ~ Dave Ramsey
Another way to practice holding on to your personal energy, and therefore improving your financial outlook, is to open a savings account and deposit some money in it. It doesn't have to be a lot, just enough for you to feel anchored in this new practice of holding on to and valuing your energy. Every time you feel drained or depleted, think of your secret account and remember that you always have more than enough energy for yourself.
Making various small changes energetically and physically will start the momentum building in the direction of financial success and prosperity (and emotional stability) that will benefit you for a lifetime.

About The Author: Megan

Megan was born with wide open gifts, experiencing dreams and premonitions at a very early age. She has had 30 years of daily tutelage from Guides, Archangels, Ascended Masters, and the Ashtar Command. Since 1993, Megan has been providing honest and compassionate readings and healings, starting with friends and family, then transitioning to a professional practice, in 2006. She's certified in various psychic and healing methods, including Reiki, Angel Work, and specializing in relationship readings, giving detailed info on how long a relationship will last, whether the partner is honest, and what their intentions are going forward. Megan has accurately read for clients around the world. She is very proud and grateful for her client loyalty and has a long list of devoted clients who have worked with her for years, many since the inception of her practice. To get a life-changing psychic reading with Megan reach out to her today at PsychicAccess.com