Miracle Moments In Mediumship Readings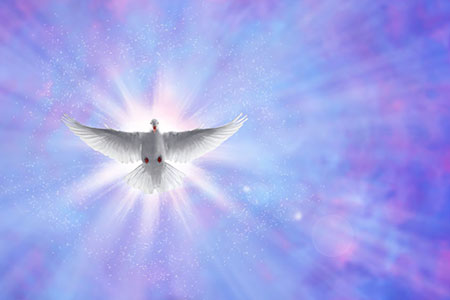 Mediums are a mouthpiece for the spirit world, or the 'telephone' in the middle. In a mediumship reading spirit may come through with a short, simple greeting or a full hour reading. The medium is merely the messenger and does not control the process. It is a three-way conversation between the client, spirit and the medium.
It is, of course, important for the sitter or client that spirit gives validating information or evidence that the medium could not possibly know or guess. This 'seals the deal' so to speak. The best way to receive these validations is to allow spirit to just take the lead and let the miracle unfold. The medium or the client trying to take charge and steer the reading is never a good idea.
Some typical examples of spontaneous evidence may include their birthname or nickname, their dates of birth and passing, how they passed, their personality and physical appearance when they were in this life, their career or business, their favorite hobby or sport, and even a beloved song, a saying they may have used a lot, or a family inside joke.
An unusual reading I will never forget was the time spirit kept showing me a yellow kayak that had rolled over in the water, to indicate his cause of death. Someone dying in a hospital bed is generic, but there is no way anyone could have guessed such an unusual fatal event. That is what I mean by authentic evidence in a reading.
I love it when a client gets that 'ah ha' moment, when they know without a shadow of doubt they are talking to a loved one. It is a beautiful miracle for all involved. Most of the time it is also a deeply healing experience.
I recently had a father come through with the unusual nickname he used to call his daughter. She did not ask me at the beginning of the reading what her father used to call her. He just revealed it to me unexpectedly. This is the best way to approach mediumship readings. In my experience, skeptical 'test questions' seldom succeed with spirit. In fact, there is usually no response to such 'tests.'
Knowing who is communicating is as important as the messages being shared, because the specific messages could only originate from a specific being in order to have meaning and provide healing for the recipient ~ Karen T. Hluchan
For some people, if they do not receive that 'one thing' they expected to hear in the reading, they feel disappointed or sketical. They may have received a long list of validations and evidence, but it's still not good enough. I find such clients often also miss important guidance and helpful information, because they are so focused on what they insist they wanted to hear.
It is important to know that the medium cannot force or command spirit to give information. Spirit only comes through with the information it feels is in the client's best interest at that moment in time. Each reading is different as the medium we must tune into the energy of the client and spirit. To provide what is important to both.
I find spirit usually provides evidence to prove continuity of our consciousness and that there is another life after this one. Our energy lives on after our passing in a different form. Some spirits like to chat and give some life guidance for the client. It is always up to the client whether they choose to accept such guidance and predictions. We all have free will and we always have the final say in our life choices.
A good reading is about spirit and the client. It is not about the medium proving how skilled or gifted they are. I personally do not know a medium that is always 100% accurate and does everything perfectly. Mediums must interpret or translate what they perceive, and mediums are fallible humans. Just like a text message, for example, what is communicated can be easily misinterpreted, distorting the message originally intended.
Reading is hard work because you're translating images constantly. There's a nuance to it – it's almost like Pictionary or psychic charades. What can crowd it up and muddy the waters is your feelings about things ~ Laura Lynne Jackson
Spirit must use information the medium already knows or will recognize. Everything we have ever seen, heard or experienced in our life is stored as memories in the subconscious mind. Spirit will have a medium recall such information from their own subconscious to convey a message to the client.
I like to call this process my 'psychic shorthand.' It can be a symbol that the medium relates to personally, or a person, place, event, experience or object from the mediums past or present life. I don't know why, but sometimes it can be a rather tricky process to piece together spirit's messages, while other times it's all simple and clear as a bell.
Sometimes a client will ask my opinion on a matter. I always make sure that they know what I say in those moments is my personal opinion, and not from spirit. A reputable psychic medium will always do this. An authentic medium should be able to recognize if a message is from spirit, or merely their personal views or opinions.

About The Author: Elizabeth

Elizabeth's talents go back several generations. She found her own gifts and embraced them at an early age, recognizing the difference between herself and most others around her. She's since honed and mastered many metaphysical practices, providing hypnotherapy, Psychic Mediumship, Mysticism, and Hypno-Reiki to her clients in Maine, and in areas around the US and in Canada, where she travels. A lover of pets, they are her greatest teachers and these unconditionally loving creatures often chime in on a reading in addition to the Angels, Guides and loved ones who provide resolution and answers for each of her clients. Elizabeth is also an author with much spiritual wisdom to impart and is currently working on a book. If you'd like to be a recipient of her unique Psychic Wisdom, find peace and receive answers that will also benefit your highest good, you can reach Elizabeth at Psychic Access.


This site uses Akismet to reduce spam. Learn how your comment data is processed.