Walk In Faith As You Move Forward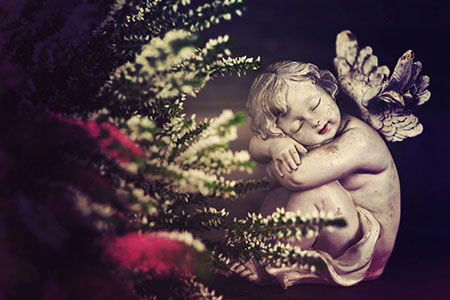 "For we live by faith, not by sight." I have relied on the words of this verse from 2 Corinthians for most of my life with much success, no matter how tough times have been.
What does it mean to walk in faith, and not by sight? Well, it means to keep going and to keep your faith in God, Spirit, a Higher Power, even when you are not sure of where exactly you are headed.
This past year these words could not have been more relevant. It has been very difficult for all of us, especially for those who have lost loved ones. Sadly, in our day and age, when a loved one passes, we don't always get the support we need in order to get through the loss and get the help we need to move forward.
Processing grief on your own is no easy task. First we have to accept that our loved one is not with us in the physical sense anymore, but their soul is always with us. They will tell us that they are still here, but they do not want us to have an unhappy life, they don't want us to be alone.
In our soul contract one of us agrees to leave before the other, whether it is a parent, husband, wife, child, sibling, whomever it may be, and that the one left behind would be experiencing what it means to endure such a loss.
As we struggle to move forward, people might say, why aren't you feeling better yet? Time to get over it. Life goes on. Why are you still so sad? Well, it just doesn't work that way, and anyone who has experienced such a loss understands that it takes a lot of time for the heart to truly heal.
I lost my husband of 31 years a long time ago. You don't ever get over it completely, but it does get easier with time. It's a step-by-step process, and having people that support you means so much to help you get through.
Grieving is a necessary passage and a difficult transition to finally letting go of sorrow – it is not a permanent rest stop ~ Dodinsky
However, we must remind ourselves that the other side does not want us to remain stuck in our grief, because if we stay that way then our loved ones cannot go where they need to go. If we do not move on, they cannot move on either. Their soul cannot be free if we hold them back. We must let them go, so that it also gives us the ability to heal.
When the souls of loved ones have crossed over, there is no more pain, fear or sadness. They are happy to return to their spiritual home. It is our soul's duty to also get out of our state of grief, so that we can comply with our side of the contract. Avoiding our grief prohibits our soul, and theirs from moving forward, and then we are not accomplishing anything.
What if you are not ready to move forward? That is a choice that you make with your free will. We get to choose when we are ready to go forward, but your soul or higher self will always try to push you out of the state of grief. It will wait until you are ready.
When you are sorrowful look again in your heart, and you shall see that in truth you are weeping for that which has been your delight ~ Kahlil Gibran
We may meanwhile ask for constant signs and messages from our loved ones, but the other side does not give out signs and messages to repeatedly pacify or entertain us. Instead, they redirect things in our path, so that we can get to where we need to go in our lives. Moving forward means letting your loved one go, while holding on to the fond memory of them. Not even death can take our memory of those we hold dear to our heart. And someday we will be reunited with all the loved ones who have gone before us.

About The Author: Andrea Grace

A Psychic, Medium and Paranormal Investigator living in New Jersey, Andrea has been a top featured internet psychic for many years. She was born with psychic gifts that made her unique in her family. At 17, she was in a horrific car accident and recalls traveling to the other side, describing the beauty beyond explanation. She received last rights, but returned with gifts that were enhanced considerably--a blessing she treasures to this day. It was her calling to stick around to help people, and this is exactly what she's been doing ever since! Her ability to help clients recall their past lives has helped many to understand where they're headed in the future. With the help of her Spirit Guides and Angels, she gives clarity on any issue, always respecting her clients, while telling it like it is. If you'd like an accurate reading with a caring, kind, and accurate Psychic and Medium, you can find Andrea at PsychicAccess.com.


This site uses Akismet to reduce spam. Learn how your comment data is processed.