What The World Needs Now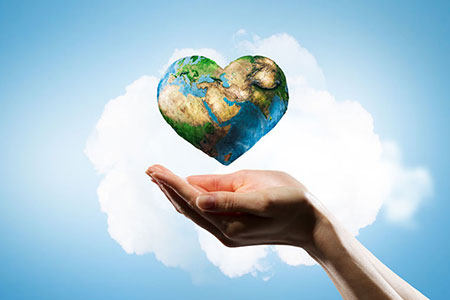 New Year's morning, I woke up with a song lyric on my mind. "What the world needs now is love, sweet love…" An old classic made popular by Jackie DeShannon back in 1965. God, my inner DJ, never ceases to amaze me with the brilliant selection of musical messages I frequently receive.
To keep my clairaudient channel clear, so that I will recognize when I am being divinely guided, I avoid listening to the actual radio. This ensures that I do not mistake a spiritual serenade for an ordinary tune stuck in my ear, or vice versa.
Songs I have not heard in decades sometimes surfaces from the vault, always to perfectly punctuate the moment. Undoubtedly, that was the case when this long-forgotten song came to me with the dawn of 2021, highlighting the healing that is needed in our world this coming year.
When God and his angel agents want to get a message across, they usually broadcast it in stereo. It starts showing up in my life in surround sound. But this time, I experienced something more extraordinary and unique: three of my friends who are intuitive and empathic also had a spiritual encounter with the same song around the same time. A Higher Power is clearly shouting, "Listen up world! Hear ye, hear ye! This is the truth you need to know right now."
Love is indeed the call and cry of the hour. "Not just for some, but for everyone," as the song goes on to say. Love is the healing ointment, the spiritual salve, the soothing balm, the substance needed to stitch the divides inside and out.
As spiritual beings having human experiences, we are each prone to encounter divisions within our own body and soul, and our own head and heart. We all share this ache of the self to be whole, whatever our differences may be. And love is the key. It unifies every aspect of our individual being with our divine purpose of existence.
What the world needs now is love, sweet love. It's the only thing that there's just too little of. What the world needs now is love, sweet love. No, not just for some, but for everyone ~ Hal David
Love, in truth, is a divine force emanating from the Supreme Source. As individual souls, we also emanate from our loving creator to exchange in love. When we open ourselves to receive love from its spiritual origin, then have enough of this precious resource to also share with others. It fills the soul and overflows, spreading its serenity outward.
Trying to cure all the wounds and suffering of the world may seem impossible and daunting. But imagine a world inhabited by a collection of individually healed souls, all shining like lighthouses of love! How far could that radiance reach to raise consciousness and deepen peace? We have an opportunity now to turn up our little light and let it shine with the same love that we originate from.
I invite you to join me in a deep prayerful breath right now, meditating on absorbing love from God as you inhale, and radiating it out as you exhale. If nothing else, this glow of Love and Light will surround you with its divine grace, making your corner of the world that you share with others a sweeter sacred space.

About The Author: Lotus Grace

Grace is the epitome of her name, having endured a troubling childhood that paved the way for an adult, gentle, energetic grace that she now delivers to others through the gifts of movement, dance, and through her many intuitive gifts that she shares with her clients. For 30 years, this Hudson Valley, NY State resident has cultivated a unique way of helping others, drawing upon God as her best friend, advisor, and the all-encompassing force that is the bedrock of her faith. Her journey has led her to heal and grow through the mud of life and compassionately support others to do the same. She's immersed in the world's diverse faiths with a core that is deeply rooted in more than three decades of immersion in the spiritual practices and wisdom of devotional lineages. Her inner relationship with God/Spirit has deepened the intuitive sights, sounds, scents, and senses that unfold profoundly when she dances. Since 2004, Grace has run a spiritual healing arts and dance sanctuary, where she intuitively nurtures children, teens, and adults. In her client readings, she taps into her Empathic, Clairvoyant, Clairaudient, Intuitive healing to help clients access the divine guidance they need. If you're searching for a little added Grace, spiritual energy, and the answers you need, you can find Grace at PsychicAccess.com.


This site uses Akismet to reduce spam. Learn how your comment data is processed.