Astrological Forecast February 1 – 7, 2021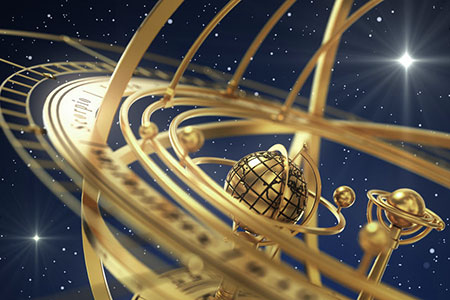 The fixed air sign energy of Aquarius will be intensely felt this month with Venus, Jupiter, Saturn, Mercury, the Sun, the Moon, Mercury, as well as asteroid Pallas, all gathering to create a great stellium in the sign of Aquarius. A stellium occurs when three or more planets cluster together in a single zodiac sign to create an unusual energy blend. To further fan the flames, Mercury if currently also in retrograde.
It remains to be seen exactly how this major stellium will affect both global events and our personal lives, but whatever the impact…it will be profound, progressive, even groundbreaking. Wherever this stellium lands in your chart this month, it will invite deep thought, inspired new ideas and the urge to innovate and be experimental in those aspects of your life. However, be careful not to let the stubborn, obsessive side of Aquarius rule your mental state. If you were born under one of the fixed signs of Taurus, Leo, Scorpio, and Aquarius, you can expect to be especially impacted by this seven planet cluster. So, fasten your seatbelt, it's going to be an interesting month!
To make things even more demanding, this week starts off with the planets taking sides, as the free-wheeling Aquarius Sun squares off with staid and steady Mars in Taurus. Avoiding the urge to stand your ground, and deciding who's right and who's wrong, will be essential this week, as the lines get blurred and realities shift. There's an old saying that if you can't beat them, join them, but before you take sides one way or the other, ask yourself this: would you rather be right, or happy?
Venus will arrive on the doorstep of Aquarius today, another no-holds-bar placement that will require us to stay patient, alert, and open to the possibilities of finding a middle ground. With all this in mind, at least lean into the calm and harmonious Libra Moon that sails through the heavens Monday and Tuesday.
With a Scorpio Moon overhead on Wednesday and Thursday, the answer to any conflicts we encounter may be to go within, turn toward spiritual guidance and allow the Universe to take the reins. Things will settle down over the weekend for a moment of respite, as the Moon skips through light-hearted Sagittarius on Friday, Saturday, and Sunday.

About The Author: Susyn

Susyn lives in New Mexico, and offers Psychic Guidance, Astrological Insights and Channeled Messages that will change your life! Her credentials are top-notch and include a doctorate in metaphysical studies and certifications from The American Association of Professional Psychics and The American Tarot Guild. She's also a published author, with two metaphysical books under her belt, and has authored numerous articles and horoscope columns. In addition to her readings, Susyn is also a mentoring practitioner who teaches others how to master their own gifts, raise their vibrations, and empower themselves. A sought after guest on numerous radio programs, she has also hosted her own radio show. If you're looking for one of the truly bright shining stars who can also read them with an accuracy that will astound, look no further. You can find Susyn at PsychicAccess.com.