Reiki Healing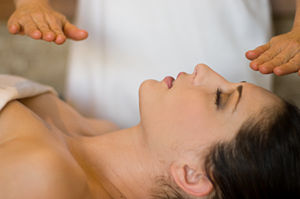 Reiki is a form of healing and spiritual development. This natural healing method has been around for years. Reiki is known worldwide because of the many benefits people experience.
I am sometimes asked during readings to explain what Reiki is and how it is used. Reiki is basically a Japanese form of healing using your hands to manipulate energy and remove blockages in energy flow. Reiki offer many health benefits, including stress reduction, relaxation and wellness.
Reiki reduces the tension that is caused by stress, and this can help to lower blood pressure and improve sleeping habits. It will also make you think more clearly, so better judgment is used in everyday life. Reiki promotes wholeness of your body, mind and spirit. Reiki is also a extremely good way to release toxins and help the body to be cleansed. Reiki also promotes spiritual development and emotional growth.
We are all spiritual energy already, practicing the system of Reiki will help us to rediscover this ~ Frans Stiene
Reiki is a extremely powerful energy, but yet a remarkably gentle form of healing. A Reiki Master has the ability to channel energy from their body to yours, and can reduce pain and other symptoms that someone else may have in their body.
Other tools can be used along with Reiki to enhance the therapeutic effects, such as crystals, flowers and aromatherapy oils.
All over the world people an increasing number of people are now turning to Reiki it is now even being used in the medical field. Some doctors are prescribing Reiki after surgery for their patients, to help relieve pain and speed up the healing process. Cancer Patients are also turning to Reiki to help them deal with anxiety. Reiki can also help with the side-effects of treatment, by reducing nausea and fatigue.

About The Author: Mystic Shelley

Mystic Shelley is a Psychic Medium. She has been reading for over 15 years helping and guiding people. She uses my 8 spirit Guides during her readings. She reads in the area of love, relationships, career, money and all matters of love. She will give you only honest and direct answers. Get a reading with Mystic Shelley now at PsychicAccess.com