Is It Worth Your Health And Happiness?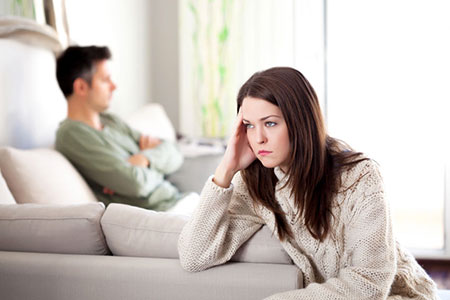 We are usually deep in conversation, accompanied by a lot of belly laughs, when I meet with my group of crochet girlfriends every other week. We meet around a large table, yarn in hand, to make lots of wonderful goodies to give away at Christmas, or whatever festive holiday is upon us.
Things turned serious at a recent gathering, when one of the gals in our group starting talking about her daughter, who recently separated from her husband. She said a few things about their situation and then looked up at me, but decided not to ask, as I was there for fun and not to be asked any psychic questions.
My friends know that when I'm at our crochet circle, it is about taking a break from my work and just having some fun with the girls! But it's not always so easy.
She quickly tried changing the subject, but the other ladies started to talk about their own children. Some of the older gals even brought up their grandchildren who were recently divorced, or separated.
Many comments were made like, "Times are tough," and, "These days things aren't the same as they were when we were growing up," and "Life is no longer as simple as it used to be back in the day," and also, "Technology is ruining a lot of couples these days."

Personally, I believe it has to do with communication, or lack thereof – chemistry and communication.
I could feel the charged emotions in the air, and the feelings of sadness and disappointment, because these ladies love their children and want them to be happy… but can't always help them in their intimate relationships.
Letting go doesn't mean that you don't care about someone anymore. It's just realizing that the only person you really have control over is yourself ~ Deborah Reber
I sensed several guides, angels and ancestors around these ladies. They were helping to bring comfort, as many were trying to hold back tears. One, for example, lost her husband not too long ago and her son was currently going through a divorce.
So I had to step into work mode for a moment. I immediately repeated what spirit was saying to me: "Is it worth their peace and happiness to stay together if they are not happy?"
We are so conditioned to think that we must stay together at all cost, because we gave vows or it is expected of us by society. But in today's world there is also a stronger focus on mental health awareness and self-care. If we are having a relationship that is dysfunctional, or even toxic, and it is never getting any better, how long must we stay? Until our health suffers?
Today many choose health, contentment, even happiness and joy, over staying in a relationship that sucks them dry energetically and makes them feel disconnected and fragmented from life.
Some people marry too early in life, or for the wrong reasons, and are really not ready to settle down. Then the kids come along and they stay on for their sake. But it is never okay to stay in a relationship or marriage just because a child is involved. Spirit says it is the child who suffers in the end from all the dysfunction in their family life and home.
You must make a decision that you are going to move on. It won't happen automatically. You will have to rise up and say, 'I don't care how hard this is, I don't care how disappointed I am, I'm not going to let this get the best of me. I'm moving on with my life ~ Joel Osteen
Spirit says, "Is it worth your health, happiness and well-being?" If years have gone by and there is no change or growth, maybe we must be the ones to make the change by saying, "I may love you, but I can't live with you." Then wish them well, and move on to a new life free of dis-ease, judgment and a lack of joy and inner peace.
Life can be good, but we must make the change. Once we do, our parents, friends and loved ones will see how happy we are, because we made the necessary changes to live a real, authentic life of peace and harmony. And seeing us be true to ourselves will make please them much more, than witness our suffering in a miserable, unfulfilling relationship.
This doesn't just apply to relationships. The same goes for career, business, education, parenthood, friendships, and everything else that occupies our lives. Does it make you happy? Is it worth your time and energy? If you are beginning to experience mental or physical health issues, is it still worth it?

About The Author: Moon Goddess

Moon Goddess is a third generation empathic healer and seer. She started to give healing readings to people more than 20 years ago. She has always been interested and studied all things metaphysical from a young age. Being hypersensitive she can feel and see things before they happen. Utilizing the Tarot, and with the help of her Guides, she is a source of support for many people all over the world. After he passed over, her grandfather kept his promise and came back to say goodbye and gave her the most amazing experience. Moon knows there truly is a Heaven, and it is wonderful! Sharing her experience has helped many people after they have lost someone, or anyone experiencing some form of grief. Get a reading with Moon Goddess now at PsychicAccess.com.


This site uses Akismet to reduce spam. Learn how your comment data is processed.