Favorite Incense And Essential Oils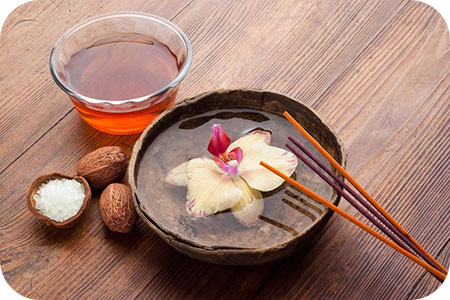 Incense and essential oils are a powerful, inexpensive way to fill our senses and surroundings with optimum health, joy and prosperity. With the right fragrance, we can transform our thoughts, release stress and cultivate inner peace. Utilizing the calming vibes of incense and essential oils is a wonderful way to uplift our hearts and reconnect with our souls, as they help to maintain our sense of balance.
The following is a brief guide to my favorite empowering aromas, their properties, and their ability to transform your world.
Amber
Use amber to promote beauty, protection, youth, vibrancy and to promote spiritual awakening. Amber is also a powerful conductor when researching past life memories or working through old issues to clear them so one can move forward.
Frankincense And Myrrh
These two fragrances are often used interchangeably to dispel negativity, purify surroundings, attract good luck, and surround one with spiritual protection. Either of these scents is a perfect accompaniment for empowering one's meditation practices.
Using incense you can release prayers to the heavens (celestial realms) offering upward all cares or strife… ~ Leland Lewis
Rose
Rose is often used to cultivate courage, induce prophetic dreams, and attract love into your life. Meditating with rose incense or essential oils can attract a soulmate, improve a rocky relationship, or inspire greater self-love.
Jasmine
Jasmine is a powerful way to attract love and money. It also carries the ability to induce dreams of a prophetic nature, heighten intuition, and awaken one's metaphysical gifts.
Sage
Most commonly used as a form of protection, sage is also known for its power to banish negative energy or clear a location of evil entities. Sage can purify sacred spaces and metaphysical tools, such as crystal balls or tarot cards. It can promote wisdom, attract money, and aid in the healing of body, mind and soul.
Eucalyptus
Known for its ability to protect your health or improve a medical issue, eucalyptus incense or essential oils are a wonderful tool for purifying and renewing the psychic atmosphere of a person or location. When used during meditation, it will surround you with extra spiritual protection.
Sandalwood
The magical properties of sandalwood incense or essential oils are far-reaching. Ideally, you'll want to light some when making a wish, calling spirit guides or loved ones in for a channeling session, and to enhance spiritual awareness. It is also a popular fragrance for purifying and cleansing your world of negative entities or energies.
Patchouli
This scent carries the power of abundance and prosperity. Patchouli can also help when one is trying to move away from a difficult situation, such as a bad job or relationship. It is often used to attract money and love. Patchouli is also known for its ability to boost fertility or promote one's potential for success.
Lavender
Lavender is considered one of the most calming and restorative of fragrances. It is often burned to induce rest and sleep, eliminate stress, and to ease worrisome thoughts, physical ailments or emotional trauma. In combination with the scent of roses, it can also be used to attract love into your life.
If balance in every aspect is your goal in life then, essential oils for healing should be part and parcel of your daily existence. In a nutshell, essential oils are naturally derived or extracted oils that may give off fragrance to achieve a certain effect ~ Moya Mulvay
Lilac
Lilac is most often used to stimulate or increase one's psychic gifts. It also encourages harmony, contentment, and a sense of well-being. When combined with lavender or eucalyptus, it carries restorative powers and can heal the body of undefined or hard-to-diagnose health issues.
Musk
Musk is a commanding, compelling scent that can improve your personal strength and self-confidence. It has healing powers and can help restore one's health after an illness or surgery. As musk is known to be a powerful aphrodisiac, burning this incense or diffusing essential oils of musk is a sure way to spice up one's love life
Clove
This scent is infused with the ability to dispel negativity in all forms and to cleanse and purify sacred or personal spaces. Clove is also a powerful agent for repairing, restoring and sealing your spiritual aura. Clove is highly recommended when one is moving into a new location, as it will clear out lingering energies from a prior tenant.
Rain
Rain incense or essential oils can cleanse one's mind, heart and soul of emotional troubles, for it's a wonderful fragrance for renewing and restoring these important energy centers. As a cleansing tool, rain scent carries the power to refresh one's view of life. It's also a powerful way to induce new visions and dreams for the future.
Ocean
Ocean incense or essential oils are one of the most powerful fragrances a person can use to evoke and advance your psychic abilities, enhance a channeling session or awaken one's inner knowing. It can boost self-confidence and bring new clarity. It also promotes the virtue of honesty and supports the quest for the truth.
Cinnamon
This scent can really spice things up! Burning or diffusing it will add power to verbal conversations as well as the written word. Cinnamon can be used for personal protection and to attract money. It's also known for its ability to stimulate or strengthen psychic powers, and is a wonderful metaphysical aid to heal the mind, emotions and physical body.
Lemon Grass And Citrus
Using Lemon Grass or citrus scents such as lemon or orange create an immediate uplifting effect. Used to energize and cleanse the spirit, this is the perfect aroma to recharge you on all levels. Use as a pick-me-up after a long day or before your exercise routine to elevate your mood and energy levels.

About The Author: Susyn

Susyn lives in New Mexico, and offers Psychic Guidance, Astrological Insights and Channeled Messages that will change your life! Her credentials are top-notch and include a doctorate in metaphysical studies and certifications from The American Association of Professional Psychics and The American Tarot Guild. She's also a published author, with two metaphysical books under her belt, and has authored numerous articles and horoscope columns. In addition to her readings, Susyn is also a mentoring practitioner who teaches others how to master their own gifts, raise their vibrations, and empower themselves. A sought after guest on numerous radio programs, she has also hosted her own radio show. If you're looking for one of the truly bright shining stars who can also read them with an accuracy that will astound, look no further. You can find Susyn at PsychicAccess.com.