Forgiveness – A Message From My Guides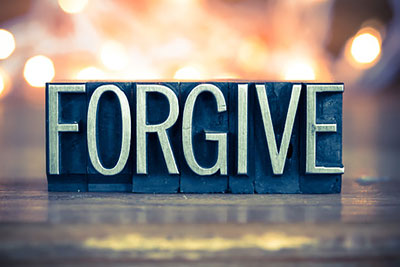 Ah, forgiveness! Such a misunderstood word. Many people assume that, although it sounds noble to forgive someone, forgiveness is often impossible. They feel that certain sins are so severe that the transgressor doesn't deserve any forgiveness at all.
Also, there is a pervasive feeling that if you forgive someone, you are somehow excusing their infractions. Do not be confused. Whether you are forgiving someone who has hurt your feelings, stolen from you or caused you bodily harm, the reasoning is the same.
You are not letting the transgressor off the hook, or turning a blind eye to the wrong that was done to you. You are not condoning said transgression or justifying it in any way. Nor are you giving the wrong-doer a free pass to re-offend, or making an exception for him or her.
Forgiving does not erase the bitter past. A healed memory is not a deleted memory. Instead, forgiving what we cannot forget creates a new way to remember. We change the memory of our past into a hope for our future ~ Louis B. Smedes
Actually, you are freeing yourself to move on in life without a huge burden looming over your shoulder and churning up the past. The person in receipt of your forgiveness can act or react in any way he or she chooses. This is not your concern. They have their own path to follow and their own lessons to learn.
Instead, you are acknowledging that neither the wrongdoer nor the memory of their misdeed will take hold of your heart and march with you into the future. You are not responsible for what was done to you in the past, however, you need to be accountable for your own actions and reactions in the present and future.
The act of forgiveness frees your spirit. It allows you to have strength and hope again. It gives you the power to assess your current reality and make insightful decisions that are unfettered by past grievances.
So many people are bound by the issues of the past. They re-live the transgression over and over again, replaying the conversation or circumstance as it could have been 'if only' this comment had been made or that action had been taken.
As the expression goes, "Hindsight is 20/20", so it is tempting to replay these scenarios to effect imaginary change. The problem with this habit is that you help to ingrain the negative thoughts and feelings deep within yourself. You give these memories a solid grounding or a base on which to build even more anger and rage, years after the fact. Harboring such resentment sprouts deep roots that entwine around your very being over time.
When you hold resentment toward another, you are bound to that person or condition by an emotional link that is stronger than steel. Forgiveness is the only way to dissolve that link and get free ~ Catherine Ponder
Life is too short to hold grudges and blame others. Know that you have chosen your path and have the strength to conquer whatever threatens to derail your journey. Give yourself permission to let go and move forward in a positive direction without shame or guilt. Find a supportive outlet to help you overcome this tendency to chastise yourself and others because of past errors, misjudgments and downfalls.
The person you are forgiving does not have to be in your presence. He or she does not have to be made aware of your intentions. It is enough for you to forgive from your heart. Above all, it is imperative for you to forgive yourself first.

About The Author: Monica

"What you think about, you bring about; what you believe, you become." This is Monica's philosophy, derived from her twenty-five years of experience as a Clairvoyant, Light Worker and Medium, living in Ontario, Canada. Monica has been a guest speaker at various Spiritualist churches, conveying Spirit greetings and messages from loved ones during Sunday services, All Mediums Nights, Healing Services, Meditation Services and special fundraising events. She's been an advisor to several international business leaders and connects with all of her clients on a level of love light and empathy. She delivers messages containing ideal outcomes and positive solutions with the help of her guides. If you'd like Monica to help shape your destiny, you can find her at PsychicAccess.com.