Don't Panic, It May Be A Spiritual Intervention!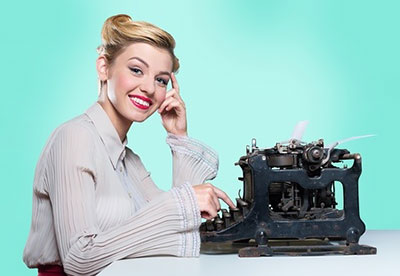 From the very start of my spiritual career, my guides taught me that in life we are given three things: opportunity, choice and free will. Simply put, when we make our choice from the options put to us, we exercise our right to free will and determine our futures, largely, ourselves.
While for most of us this is quite an empowering thought, there are times in our lives when spirit feels that we are very much on the wrong path and therefore will actually change our circumstances for us. True, this does not happen very often, but I will use my own situation as an example of why they sometimes actually do interfere with our free will.
It's a bizarre but wonderful feeling, to arrive dead center of a target you didn't even know you were aiming for ~ Lois McMaster Bujold
Way back in 1984, when I was the 'ripe old age' of 24, all I ever wanted to be was a shorthand typist. Being so determined to acquire for myself such a prestigious job, I went to college, worked hard, passed some of my exams, was proactive in my approach and finally landed myself a job with the local Council.
I could not believe my luck, as the pay was some £5,000 per year, which is equivalent to approximately $7,500 – certainly not bad almost 32 years ago! I thought I had struck gold, but then it got even better as I started to go out with the man who worked in the next office. Life could not be better (or so I thought) as I had the man, the career, the money – everything!  Sadly, however, disaster soon struck…
My boyfriend left me, the girls in the office ridiculed me, my boss and his secretary bullied me, and finally, I lost my job.  Suddenly, I found myself in the middle of a recession, with no boyfriend, no job, no money, no prospects and I couldn't even get a reference! Why, oh why, did this happen to me? I didn't deserve it! I had worked so hard; I was friendly; I endeavored to be a good girlfriend and colleague, yet I was still treated as unfairly as this.
Two long hard years went by in which I incurred quite a bit of debt and literally had to fight my way out of looming poverty.  Then one day, in the early Spring of 1986, I got a temporary contract working as a secretary on a building site. I literally hated it, but it paid my bills and I stuck with the job.  Towards the end of the contract I started to go out with one of the Civil Engineers on the site. His name was Charlie and I have been married to him, more than happily, for over 27 years now!  Furthermore, we have a lovely son called Jonathan, who has just entered his teens. I live in a nice house, enjoy a good income and literally do a job that I am totally in love with, i.e. helping other people, perhaps like yourself.
Coincidences, "syncs" or what some call "serendipities" are signs of God making corrections to your chosen spiritual path. Omens are signals to turn back …as you're not paying attention to your "Coincidences"  ~ Eric B. Watson
So what is the moral of this story?
Well, I wasn't meant to be a short-hand typist – with absolutely no disrespect to the profession of course. I was meant to be a psychic, because this is where I get maximum job satisfaction.  Neither was I meant to be with the boyfriend who dumped me. No, I needed to be with a much stronger and more loving man, like the one I married. If the first guy hadn't left me and I hadn't lost my job, then I would never have met my Charlie.
Furthermore, the ordeal that I went through in the 80's gave me, I feel, a deeper understanding of people, their problems and how they could be helped. Therefore, my "suffering", if you like, really wasn't in vain. By making this statement, however, I am certainly not suggesting that people need to suffer in order to go from where they are to where they ought to be. Far from it.  I am saying that my path wasn't right for me, but spirit changed my path, and whilst there was a strong element of challenge attached to this, I will never, ever, regret the path I was led to.
In conclusion then, if you feel you are on the wrong path and no matter how hard you try you find that circumstances are perhaps leading you somewhere else, there is no need to fear. This is simply spirit guiding you in the right direction. One day you, like me, should look back and be very grateful to spirit for guiding you elsewhere. Where you have been is not so important, it is where you end up that counts. With spirit's help, no matter where you find yourself now, if you put your trust in spirit, undoubtedly, you will end up in a better place.

About The Author: Lucinda

Lucinda is a highly trained Intuitive and Empath, living in a beautiful village in North Yorkshire, England. She possesses the rare gift of understanding a client's personal pain and has been through many challenges, herself, which has only made her stronger! It is both her calling and her happiness to help those in need. And whenever she needs a little help herself, her Guides are always there to assist in her development and provide clear interpretations for her clients. Prediction has always been a great tool she could count on to accurately foretell events, but Lucinda also draws on her expertise with Dream Interpretation, Numerology, Angel Cards, Law of Attraction and Life Coaching to provide full and detailed solutions to any problem. A member of AMORC and Beyond Freedom Evolution, she provides inspiration, education and personal support for spiritual development. If you'd like answers or want to attract your desires, you can find Lucinda at PsychicAccess.com.