Yoga For Mind, Body And Soul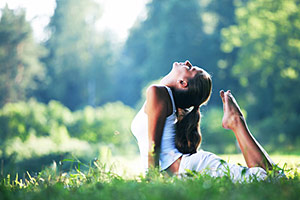 During my psychic readings one question pops up often: how do you keep stress and anxiety to where it is not affecting your personal or professional life.
One of my favorite techniques for stress reduction is Yoga. This form of 'exercise' originated in India and has greatly increased in popularity all over the world in recent years. It's great exercise for your body, and your mind. Keeping a healthy body improves holistic health and reduces stress and anxiety in your life.
Yoga can be done just about anywhere, even in small spaces. All you need is comfortable clothing and a mat to stretch out on. Add a relaxing environment and music, and you're set! Start slowly, working up to what is comfortable for you. This is key. Yoga can be very enjoyable and something to look forward to if it is performed with care and dedication.
You cannot do yoga. Yoga is your natural state. What you can do are yoga exercises, which may reveal to you where you are resisting your natural state ~ Sharon Gannon
Yoga has so many proven health benefits, including lowering blood pressure, and balancing the flow in the body. Balance is used as a technique in yoga exercise. Balance on the outside as well as within. Shifting your weight to different parts of your body also teaches one to control your breath. Breathing correctly helps restore the brains oxygen. This helps the brain to be able to think more clearly.
By keeping a regular yoga routine, you should be able to see your stress level change and this leads to feeling more inner peace and self-confidence. Yoga also helps to create stronger muscles and helps make your body leaner. Combining Yoga with a well-balanced diet and adequate sleep keeps the body healthy and makes for a stronger immune system. By having a stronger immune system, your body can fight off sickness better.
Yoga exercise can be done anytime of the day in your own personal setting, once you get on a routine and see how it helps you and your body. Yoga exercise can work in anyone's schedule. It only requires a little time and some will-power and you will be amazed at the results.

About The Author: Mystic Shelley

Mystic Shelley is a five-star psychic, Reiki healer, clairvoyant and empathic reader. She offers her clients honest answers about past, present and future events with the help of her trusted guides. She reads in the area of love, relationships, career, money and all matters of life. Mystic Shelley was born with talents that would later mark her as a gifted psychic, but she chose not to embrace them early on. In her 30's, a not-so-chance meeting with a celebrated psychic set her on a course that awakened her gifts. Born with the gifts of clairvoyance and empathy, her psychic mentor helped her to expand those abilities, taking her talents to the next level. With experience came proficiency and today she has a growing list of devoted clients who sing her praises. In addition, she's also actively assisted other psychics to open up to their abilities. If you are looking for direct and honest answers get a reading with Mystic Shelley now at PsychicAccess.com