Free Yourself From The Fear Of Rejection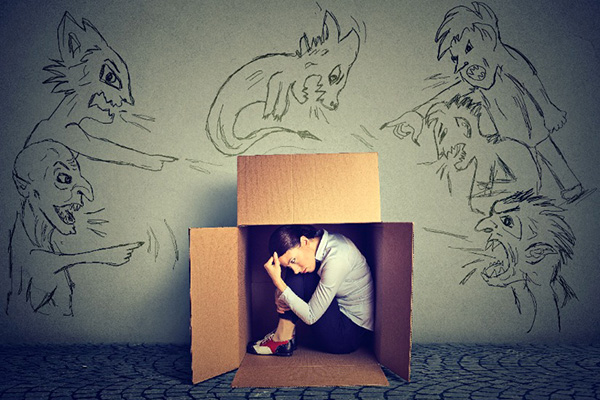 A close friend and college, who is also a psychic medium, had a blind date set up by a friend a while ago. "I think the two of you would hit it off," the match-making friend promised. Well, my friend and the mystery man initially texted for a couple of weeks and then decided to meet in person.
Due to Covid-19 recommendations at the time, they arranged to meet outside and ended up going for a three hour walk. The date went great! When it was time to part, the gentleman said he hoped they can meet again soon. He clearly seemed to like her a lot.
She agreed as they both seemed to enjoy each other's company, but on the way home, her old fear of rejection resurfaced.  She called me the next day to tell me how it went.
The first thing she said was that he seemed a great person. It was the first time, in a long time, that she had such a good time. But I could sense that something was not quite right. So, I asked her what was the matter?
"I think he is out of my league," she bluntly said.
"What do you mean," I exclaimed in surprise.
"Well, he arrived in a brand-new luxury car, while mine is an old jalopy! He is a medical professional, and I just do readings. I am also not smart enough, or pretty enough for a guy like him. My middle-aged body is certainly not what it used to be.
Well, since we are very close, I felt it safe to truthfully add my two cents, because I had to fervently disagree with her. I reminded her that she is a reputable, gifted psychic medium who helps people all over the world and is simply adored my her many loyal clients. She needs to value who she is and should take more pride in what she does. She brings peace, joy, and healing to many people every day through her connection with spirit.
When we heal our self-rejection and self-abandonment, we stop misinterpreting other people's behavior as a rejection of us ~ Hanna Kok
I also pointed out that they spent only three hours together. Give it a proper chance. If the guy is truly as smart and accomplished as she says he is, then surely he is capable of making his own decisions about liking someone, or not. Nobody spends three hours with someone and then asks for another date if there is no connection whatsoever!
"What makes you think that you might not end up being the one who decides that he does not fit into your world," I firmly told her. "So, if you don't at least give it a chance, you may sabotage a special connection with a very nice person. We are always good enough for the right relationship, but first you must find out if it is meant to be, or not. And for that you will have to give it a real chance."
When a person has been subjected to the trauma of outright rejection in the past, all those old thoughts and feelings of 'not being good enough' tends to resurface in the present. It can spark a pattern of unproductive self-talk that lacks self-compassion. What if the person really gets to know who I really am, and decide they don't like me? I have way too much baggage; who would ever want to be with a hot mess like me?
Never look in the mirror to pick out everything possibly 'wrong' with you. Start looking at all the beautiful parts of your body, mind, and soul. And if you cannot find anything good or beautiful about yourself, then realize that it is your ego interfering. The ego can either inflate or deflate us. Neither is wise. The spiritually aware person sees themselves and others through the eyes of love, not judgment or pride. We are all an expression of God, Source, Spirit, the Universe – and the Divine Creator does not make mistakes.
In order to sustain healthy, loving, lasting relationships, a person must not fear rejection. When this fear becomes the motivating factor in the life of an individual, they will spend their time trying to avoid it rather than building healthy relationships ~ Terrie Reyes
Some of us can also not get past our self-criticism due to constantly comparing ourselves to others. I am just not where I thought I would be at this age. Well, some people could also not imagine their good fortune the day before they won the lottery! What we think of ourselves is our own reality. Other people simply do not care about your imagined failures…they are way too busy navigating their own. And chances are there are probably other people who also compare themselves to you and find themselves also lacking.
At some point in life each of us must decide that we do matter. Each of us has value. If someone only wants to be with you for your status, what you own, or what can do for them, your relationship will be doomed anyway.
Never alienate a good person because of unfounded insecurities and a disabling fear of rejection. The fear of being rejected is rooted in not feeling 'good enough.' Too many times I have heard people say, "I knew they would leave me," when in fact they were the ones who orchestrated the rejection themselves. It is a way of protecting ourselves from being hurt.
Fact is, if we always barricade everyone out with a brick wall of fear and self-doubt, there is no way any of our relationships will ever flourish.

About The Author: Elizabeth

Elizabeth's talents go back several generations. She found her own gifts and embraced them at an early age, recognizing the difference between herself and most others around her. She's since honed and mastered many metaphysical practices, providing hypnotherapy, Psychic Mediumship, Mysticism, and Hypno-Reiki to her clients in Maine, and in areas around the US and in Canada, where she travels. A lover of pets, they are her greatest teachers and these unconditionally loving creatures often chime in on a reading in addition to the Angels, Guides and loved ones who provide resolution and answers for each of her clients. Elizabeth is also an author with much spiritual wisdom to impart and is currently working on a book. If you'd like to be a recipient of her unique Psychic Wisdom, find peace and receive answers that will also benefit your highest good, you can reach Elizabeth at Psychic Access.