We Are Never Alone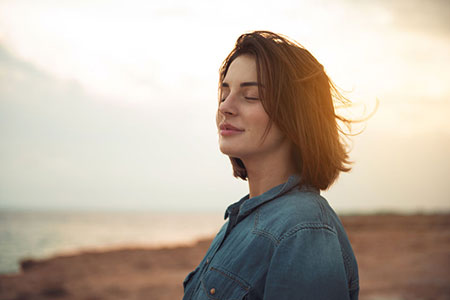 Extreme loneliness and feeling isolated have become more prevalent over the past year. Distancing ourselves from loved ones, friends and co-workers has not been easy, but being the determined spirits we are, we are all finding new ways to communicate and stay in touch. Yet, it will never be the same as a real-life hug.
Living in a house with several other people also does not shield us from feeling lost in all the chaos and noise that reaches us from the outside world, leaving many of us feeling empty, anxious and downcast.
To navigate these challenging times it is vital to have strong internal center and active spiritual life. Being spiritually aware and grounded empowers us with the knowing that we are never alone. Spiritually conscious souls know that the Universe, Spirit, God, Source, is always with us, supporting us, directing us, and protecting us.
Touching base with Spirit on a daily basis offsets the void of loneliness, fear or despair when it rears its ugly head. Some people do not have a social support system, and this can generate even more severe loneliness, depression and mental health challenges.
It's important to remember that in our daily prayers and meditations, we are able to send protection, healing light and loving energy to others at a distance. We should be mindful to reach out to others more often and share our 'spiritual glow' with them.
It is also helpful to remember that there is always a higher purpose with everything that happens in our world. Keeping this knowledge uppermost in our minds can take us out of panic mode and remind us that faith and trust will bring us through to the other side of this pandemic.
When a sense of loneliness arises, one of the best things you can do is to reach out to someone else who is in a more difficult or less privileged circumstance than yourself. It serves to break the hold that a feeling of solitude can have on us.
Never say you are alone, for you are not alone, your God and your genius are within ~ Epictetus
Beside our daily spiritual practices, there are also recreational activities one can practice to help combat a feeling of hopelessness or despair. Fore example, sit down and write an old-fashioned letter, or make a greeting card for someone, or send an 'I'm thinking of you' text. A hand-written note or homemade gift delivered by mail is still a powerful old-school way of brightening someone's day. Instead of feeling miserable, make an effort ot bring a smile to someone else's face.
Take a walk outside, even just around the block, and make it a point to notice the life and beauty that surrounds you, whether it is nature-based or human-based. Plays some music from your youth and sing and dance in your living room. It reminds one of simpler, more carefree time.
When I was alone, I looked to the sky. When I looked to the sky, I wasn't alone ~ Abdul Bari Khalil
Try your hand at a new recipe (I do it with YouTube's help). Lose yourself in an artistic endeavor or craft project. Channeling energy into being creative always works wonders.
Engaging in these kinds of activities helps me to let go of the idea that there are just some things that are more fun with other people. The truth is, we can learn to enjoy and appreciate our own company, while investing in our personal growth and well-being.
There is no need for us to ever feel lonely, because we are never truly alone. The only essential companion we need is Spirit.

About The Author: Amy

Amy resides in Arizona, but through her extensive travels, she has accumulated much knowledge and love for other cultures. She is a member of the Southwest Tarot Readers Association and follows her local Arizona chapter of Astrology. Amy has been a featured guest on metaphysical radio shows, she's provided readings at conferences and corporate events, has delivered lectures on developing your own psychic abilities, and she has shared her expertise on Tarot and Astrology, having earned her certification in both disciplines. Amy grew up seeing orbs and feeling energies but brings over twenty years of practical experience to the table as an accurate Psychic, Tarot Reader, Astrologer and Medium. She has read for hundreds of clients, including one very high-profile crooner! She is always expanding her metaphysical tool belt, offering her clients many delights on her magical menu, including channeling, dream life interpretation, crystal healing, and past life exploration. If you'd like a powerful reading that will also empower you to lead a happier, more rewarding life, you can find Amy at PsychicAccess.com.