The Daily Protection Of Your Guardian Angels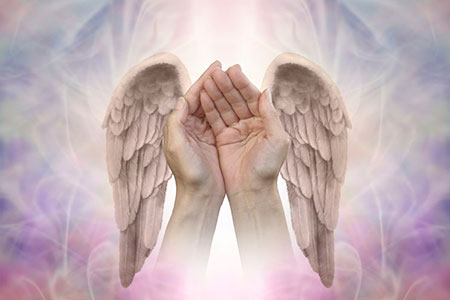 Our guardian angels are always around. I have witnessed their work and protection many times throughout my adult life. Earlier tonight, I had a sobering reminder of this.
The miracle of divine intervention often is all about divine timing. If we had been a mere 60 seconds further down the road on our drive home today, we may have become another tragic statistic. Instead, we witnessed a horrific accident scene this evening that happened about a minute before we arrived on the scene!
What kept us from being the vehicle hit? What kept us back, just far enough to not be in that accident? Our guardian angels, of course! This is why I offer gratitude daily to the angels for keeping me and my family safe.
We were the first to arrive at the accident scene, and while I was calling the emergency services, I silently said a prayer for those involved. I also gave thanks to Archangel Michael for the protection he has always provided me since I started to work with him.
To process my shock I even jokingly said, "You know, Archangel Michael, sixty seconds is maybe still too close for comfort, wouldn't you say?" The message I got in return was more serious: "Sheri, I don't want you to be complacent and too self-satisfied in life. These moments teach appreciation and faith."
I know my husband was also rattled by what he saw – he was the one that went to the hit vehicle. I just could not do it. However, I held him in Archangel Michael's cloak until we were released from the scene.
As I watched the earth angels from the fire department cut the people out of their vehicle, and witnessed the kindness of the police that came to close the roads, direct the traffic and check on everyone involved in the accident, I had a sense of calm come over me. I felt a 'knowing' that I was there for a reason.
When you ask guardian angels to intervene and help you with something specific, it gives them more leeway to assist you. That is because angels will, almost always, honor your free-will choices ~ Tanya Carroll Richardson
Soon after, some post-traumatic stress kicked in for me from 41 years ago, when I was in an accident similar to this one. I had just found out the week before that I was pregnant and I was carrying twins, but did not know that at the time. Back then, ultrasounds were only done near the end of a pregnancy, or if there was something seriously wrong.
My husband and I were traveling home from the city, when a young driver didn't slow down for the stop sign that crossed our road. He broadsided us and spun us like a top. Luckily, I was in the passenger seat, but I still had severe back, knee and head injuries. I also suffered a lot of emotional trauma due to that. Back then, I didn't know that I could have just given it up to my guides and angels to heal and take the anxiety away.
I received an ultrasound later that night and that is when we found out I was carrying twins. There is always a blessing, even in the darkest moments.
I have been asking the angels tonight why they would want me to experience all those old emotions again? They are so painful and still come from my core. Archangel Michael again answered me: "Sheri, it is because you still carry the pain and trauma within. It has never been truly healed and released. Instead, it has been buried in your core and hidden in your being. It is time to let it go. You survived that accident. Your babies survived. Do not let it continue to torment your soul."
For he commands his angels with regard to you, to guard you wherever you go. With their hands they shall support you, lest you strike your foot against a stone ~ Psalm 91
The message was so clear and simple. I am still processing all of this and will need some time to deal with the feelings that came up through all of this. However, it did bring a new sense of peace. Four decades after that incident, I am still walking, I was just not walking away. Now I will, and that is my blessing from this. Sometimes the best thing that can happen is for us to face our traumas and fears.
This is not the first time that we have been protected by spirit, but this occasion once again confirmed many things for me. Trust that if you ask your guardian angels to protect you, they will. Talk to your angels daily, and thank them for their support, guidance and protection. Then watch the changes in your life. Sometimes they are subtle and sometimes momentous, but there will always be signs and synchronicities.

About The Author: Sheri

Sheri is an international psychic and angel reader who provides clear answers on finance, career, relationships, manifesting your dreams, and working-out the kinks of life. Since 2004, Sheri is the owner on an International Spiritual Healing Centre where she runs her Reiki practice - either working on clients or teaching them the levels of Usui Reiki. She utilizes her office space for readings that are conducted via mail, phone, chat or live. Since 2008, she's honed her gifts on various psychic service websites, where she's provided telephone, chat or email readings. She also works on a spiritual network for people who have suffered horrific loss, applying her own first-hand experiences with such tragedies. Sheri's work has been described as honest, compassionate and life-transforming and she would like to see all of her clients soar free to a higher level of spirituality and growth, and exponentially change the world to the best it can be. You can get a psychic reading from Sheri at PsychicAccess.com.


This site uses Akismet to reduce spam. Learn how your comment data is processed.