Connecting With Your Team Of Spirit Guardians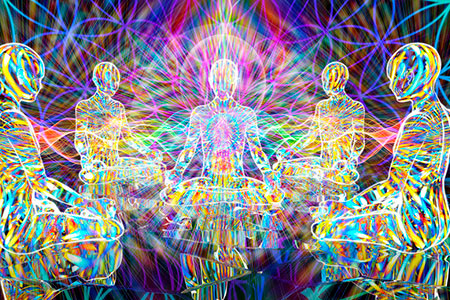 You have a 'squad' of spirit friends you can count on and talk to when you need support. Our spirit helpers, be they guardian angels, guides, animal spirits, ancestors, or departed family members, are there to look out for us. They want to make our lives better.
So, how can you get to know them better? Because these beings are of the spirit realms, it's not quite as simple as calling a human friend or sending a text, but the channels of communication are definitely open.
The first thing you need to do is get to know their names. If they are the spirits of loved ones or pets, of course, they already have a name you know them by. Use your intuition to receive the names of your guides and angels. All you need to do is ask. They will reveal their name to you when you are ready to receive it.
It is also important to understand that our spirit guardians communicate through various unspoken messages and signs, such as patterns of recurring numbers, lyrics of a favorite song, or seeing the same patterns in nature, such as cloud formations or a particular animal. Pay attention to these special signs. In our world, it's easy to become distracted and overstimulated, but our guardians are always sending these subtle messages if we pay attention.
Engaging in your daily spiritual practices is necessary to connect with your spirit guides. When getting to know angels, for example, an angel card oracle deck is a useful tool, or a Tarot deck to link archetypes to individual guardians.
For animal spirits there are also lovely card decks, which can be very useful in identifying your totem of guardian animals. You can also keep your departed pet's favorite items after they're gone.
They are the champions of your causes, the menders of your heartaches, the compass offering alternate directions when you're stuck in traffic. And when you consider how complicated life can be, wouldn't it be crazy if we tried to do the whole thing alone? ~ Deganit Nuur 
A well-known tradition to connect with one's ancestors in many parts of Mexico is the Ofrenda, meaning 'offering.' It is a home altar with a collection of objects placed on a ritual display, including photographs, memorabilia, and food offerings for departed loved ones, to keep their memory alive.
No matter which unique spirit guardians are assigned to be your 'spirit helper team,' finding regular time and space to know them, connect with them, and receive their guidance and wisdom, is a vital part of a self-empowering spiritual practice. Keep a journal specifically for messages from your spirit guardians and you'll start to see that they are in constant communication with you.
The most important thing we can do in getting to know our spirit guardians is to simply ask for their guidance and wisdom. Think of how you did this as a child. Young children normally ask their parents for what they need and want, and they have complete faith that those needs will be met.
Your spirit team works together to support you through this life. They want to see you happy and successful and becoming the best version of yourself. Don't ever feel ashamed or guilty for needing to reach out to them, or to get to know them better. Most of all, maintain an attitude of gratitude and humility towards your team, and they will carry you through even the hardest of times.

About The Author: Mystic Shelley

Mystic Shelley is a five-star psychic, Reiki healer, clairvoyant and empathic reader. She offers her clients honest answers about past, present and future events with the help of her trusted guides. She reads in the area of love, relationships, career, money and all matters of life. Mystic Shelley was born with talents that would later mark her as a gifted psychic, but she chose not to embrace them early on. In her 30's, a not-so-chance meeting with a celebrated psychic set her on a course that awakened her gifts. Born with the gifts of clairvoyance and empathy, her psychic mentor helped her to expand those abilities, taking her talents to the next level. With experience came proficiency and today she has a growing list of devoted clients who sing her praises. In addition, she's also actively assisted other psychics to open up to their abilities. If you are looking for direct and honest answers get a reading with Mystic Shelley now at PsychicAccess.com


This site uses Akismet to reduce spam. Learn how your comment data is processed.