Unconditional Love Is Heaven On Earth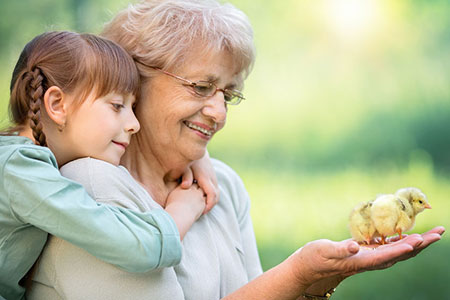 When I was a little girl, I remember going to my grandparents' home during the summers. I couldn't wait for the summer to arrive, to get to spend time with them. It was always magical. The months leading up to those wonderful stays were always filled with anticipation and excitement.
Always having something to look forward to adds to the enjoyment and contentment of life. Whether it's an upcoming event or something we are looking forward to, such trying an adventurous activity, or reading that new book you're excited to dive into. Books have always been for me a bit of a mental vacation, because you can relax, while going places to imaginative places in your mind.
I believe the magic and enjoyment of getting to spend time with my grandparents came from it being filled with love and attention. Thinking back now, they were the only adults, when I was younger, who gave me their full attention and truly unconditional love. They were never too busy to sit and talk with me, or share stories from their childhood, which I found very fascinating.
Not all Grandparents are alike though. Some can be all about gossip, judgment, neglect, even abuse, and not the best role models. I was lucky that on my mother's side of the family this was not the case. My maternal grandparents had all the traits and attributes one would imagine a truly loving grandparent to have.
I have memories of being in tears when having to leave and go back home. There I just spent my days alone in my room, as my parents were often too busy with church and other social groups they were involved in. I suspect all that time I was forced to spend on my own, helped me to expand and open my mind, to tap into those deeper areas of the psyche that are often left dormant.
Nobody can do for little children what grandparents do. Grandparents sort of sprinkle stardust over the lives of little children ~ Alex Haley
I remember astral projecting, traveling all through space and time to other planets… and even to my grandparents' home. To this day I still dream of their home. It was a place of pure love and retreat. We didn't do much, but the time was filled with lots of talking, laughter and love. Sitting on the swing out back, overlooking the garden and watching the sun come up and go down, and talking about how, once I graduated, I would come live with them. This sadly never happened.
As I grew up, my hormones took over and I ended up falling in love, or so I thought, and moved in with a boyfriend. While he was very enlightened and also enjoyed the mystical things that I appreciate, such as the Tarot, meditation, talking about all things metaphysical, it didn't last. He ended up cheating on me and I moved on. Thankful for the experience, but thankful I was no longer dating a cheater. I always told myself if someone cheated… that was it!
I still called my grandparents and spoke with them about life and love, and everything. Their love always remained unconditional and abundant.
Unconditional love is Heaven on Earth. It's rare. It's a precious gem that is too seldom experienced or appreciated. So, if your fortunate enough to experience it, hold on to it and spend as much time with those who love you unconditionally… and less time with those who are the opposite. Our time is limited on Earth. Too often our attention is diverted by other things, other people, other feelings. It's important to be wise when choosing who we spend time with.
When my Grandmother died, I knew that her unconditional love was no longer going to be available and it really made my heart heavy. It was a very sad day. But I also knew, and still know, that a part of her is within me now and I can visit with her whenever I wish. She may be not here physically, but she speaks to me in the dream state, and I also I sense her around me whenever I think of her.
I do know that she is happy to no longer be in pain and for that I am happy for her. The pain she was in towards the end made her different. She even admitted it. She said she was no longer the same person. She became bitter and unhappy, and even at times mean . She would say things that she didn't intend.
What children need most are the essentials that grandparents provide in abundance. They give unconditional love, kindness, patience, humor, comfort, lessons in life. And, most importantly, cookies ~ Rudolph Giuliani
We will all be there one day in some way, shape, or form. It's important to understand that we must be unconditional in our love for those who are in pain, even when they do and say things that they don't mean, because the pain they experience makes them that way.
I don't know anyone who is more deserving of a comfortable end of life, and a loving end of life, than those who gave so much of their unconditional love, time, energy, and would always make you feel important. I remember how they would look forward to spending time with their kids and grandkids. That made us all feel so loved, unconditionally.
As I sit and meditate these days, I can still connect with that love, that peace, that understanding, that sweetness, and those memories. My grandparents enabled me to experience Heaven on Earth, and for that I am truly blessed to have had them in my life. I am truly grateful for their love, that I experienced in the physical realm, and now experience in the spiritual realm. My spirit still soars with them as I sleep and get to communicate with them on the astral plane.
If you also have such caring people in your life, and also experience that type of love, then consider yourself blessed. But even if you don't, you can give yourself unconditional love by always giving yourself something to look forward to. Whatever you enjoy, do it. It can come in the form of self-care, positive self-talk, new adventures or hobbies, or just spending time with people who uplift your soul.
Unconditional love for most of us these days, I have found, comes from self-care. It's rare to find it in others. Just my personal opinion. But you can achieve Heaven on Earth by choosing what you think about and remembering those moments with those who you experienced Heaven on Earth with. Their love will always be there in your heart and mind, and you can visit with them whenever you wish. They are always there in spirit.

About The Author: Moon Goddess

Moon Goddess is a third generation empathic healer and seer. She started to give healing readings to people more than 20 years ago. She has always been interested and studied all things metaphysical from a young age. Being hypersensitive she can feel and see things before they happen. Utilizing the Tarot, and with the help of her Guides, she is a source of support for many people all over the world. After he passed over, her grandfather kept his promise and came back to say goodbye and gave her the most amazing experience. Moon knows there truly is a Heaven, and it is wonderful! Sharing her experience has helped many people after they have lost someone, or anyone experiencing some form of grief. Get a reading with Moon Goddess now at PsychicAccess.com.