Aligning Yourself With Abundance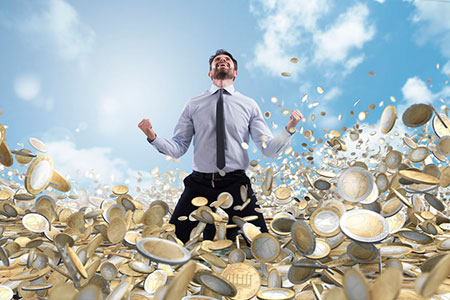 We tend to focus a lot of mental and emotional energy on abundance and prosperity. Which is a good thing. As humans we are meant to live an abundant life. However, I have talked to many clients that have been focusing their attention on abundance, but say that they only experience lack.
From a metaphysical and spiritual perspective there are several reasons why this may occur. The first is that people are often unclear about what they want. Second, it is common for individuals to invest their energies on limited mindsets about abundance, or a lack of trust. The third primary reason why people don't achieve what they say they want, is that they focus on what is absent, rather than on what is present in their lives.
The first challenge, that many of us must overcome to experience true abundance, is to be clear about what we really want. Too often people seeking abundance simply think that a certain amount of money in their lives will fix their problems. However, abundance is often less about money, and more about a personal sense of security and stability.
True abundance is not the amount of money one has in the bank.  Abundance is about having enough time and freedom to do what we want to do in our lives. True abundance is the freedom to achieve personal goals and enough energy to create happy and fulfilling relationships. And yes, money too. Money is certainly one factor to the equation. However, many things that people say that they want can be achieved without having access to a limitless amount of money.

In many spiritual and metaphysical traditions we learn that thoughts have a profound influence on how we experience life.  Even though most people know this, it is still very common for New Age seekers and metaphysical practitioners to focus their attention on lack rather than abundance. Trust is a major factor in the ability to create abundance.
Acknowledging the good that you already have in your life is the foundation for all abundance ~ Eckhart Tolle
If you are reading this blog, then you are most likely already aware that there is something greater than ourselves. Whether we use the term God, the Universe, Source, or any another name, the fact of the matter is that most people within the metaphysical community believe that we come from a Source greater than ourselves. However, belief in something greater, and trust in that something greater, is not the same thing.
The thing about prosperity is that it is far more of a mindset than it is a tangible reality. Yes, the tangible is also important, but the mindset of prosperity is the catalyst to the experience. Trusting that the Universe will provide for all your needs is the first step for that to occur. However, believing that those needs must be met in a very distinct or specific way often stops the process from occurring. To experience abundance, it is imperative to learn to trust that your needs will be met. This is the only way to create the mental atmosphere for abundance to occur.
The final issue when it comes to abundance is related to focused attention. Many people are in the habit of focusing on what is not present in their lives, rather than what is present in their lives. It is impossible to create any kind of abundance when there is a focus on what is lacking.
It can be valuable to do a brief visualization for abundance each day, but I would recommend only doing this for only a few minutes per day. It is very challenging for most people to sustain any kind of visualization or manifestation practice for extended periods of time.
Be thankful for what you have; you'll end up having more. If you concentrate on what you don't have, you will never, ever have enough ~ Oprah Winfrey
Let's say you want to manifest a large sum of money. If you attempt to focus on the amount of money for most of the day, your mind will eventually begin to realize that your current reality is not reflecting the reality you are trying to create.  Then the mind will gradually move away from the positive thought to a negative fear that the money might not be coming.
When you do a practice like this for just five minutes, the goal after those five minutes is to then become present and grateful for what is already in your life. The Universe loves gratitude, and responds very quickly to appreciation for the blessings that already exist in your life.
I would recommend using the following positive affirmative invocation to increase your capacity to experience abundance in everyday life: I welcome abundance and I pay attention to the guidance I receive. 
You can have all the good things you say you want, but you must also be willing to make some changes to align yourself with that reality.

About The Author: Cosmic Coach

Cosmic Coach (James) has mastered many techniques in his psychic practice to connect with the unique heart center of each of his clients. He is a Reiki Master of many traditions, who is adept at crystal healing, card readings, and delivering detailed messages from Angels and Guides. A Christian Minister, a teacher and an Energy Guide, living in Michigan, James is always expanding the base of his knowledge to broaden his reach and serve as many clients as possible. To experience a unique reading personally designed for you, you can find Cosmic Coach at PsychicAccess.com.