The Spirit Rituals Of Life – Part 1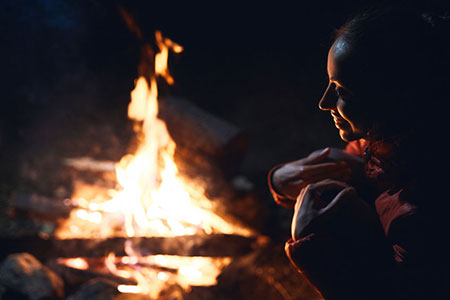 I recently had the opportunity to spend time in a cabin out in the woods. The best part for me was the bonfire at night, while listening to the wisdom of my spirit guides.
I had hoped to enjoy solitude there, but it turned out there were other folks staying in cabins nearby. I was on this three day vacation in the woods to meditate. I had planned to go on this trip alone to get some deeper spiritual insight into what brings true fulfillment in life.
I also knew in my heart I did not have to go to an ashram far away in India, or some other exotic destination. I knew in my heart going into the woods that true contentment and happiness can only be found from within.
Blessings come to us when we are willing to listen to that still silent voice within. Spirit always meets us halfway. The first blessing came on my first day there, when I learned that the people in the neighboring cabins were all leaving and I would have the place to myself soon, except for the people who run the camp. But they were far enough away and I could finally enjoy some serious silence and seclusion.
The first night was simply magical! If I walked a little ways from the cabin, I could see the entire sky lit up with stars. I walked to the camp store to purchase some odds and ends, and trekked back to my quiet spot in the woods to get a bonfire going. Then I just relaxed, peacefully watching the flames. I was surrounded with the elements of fire, water, air and of course earth.
The great awareness comes slowly, piece by piece. The path of spiritual growth is a path of lifelong learning. The experience of spiritual power is basically a joyful one ~ M. Scott Peck
I went into a state of deep meditation and called upon my guides and ancestors. I set the intention to learn what I needed to and bring back whatever insight I receive to share with friends, family and clients, to help all of us connect with inner spiritual contentment.
The first thing that came to me was visions of daily rituals and habits. How we all must do certain things every day. Things that are good for nurturing our soul. Things that are good for our spirit. Things like taking time to quiet the mind in the morning and meditate to set the tone for the day, as well as eating healthy foods to support the health of our bodies.
I looked across the flames and could see a departed family member, an ancestor who decided to join me. I could tell that she was happy to be there with me, as there was a huge smile on her face. She communicated with me telepathically.
I asked her to share with me anything that could help me bring true happiness and contentment into my life, and to everyone around me. She said to first get rid of the things that are unhealthy in our lives, and to only do things that make us happy and bring us joy, as we are all beings of light in a body.
The flame our spirit never dies, she explained, but our bodies are temporary. So, we must also nurture that which lives on, the spirit. The growth we attain in each sojourn, goes with us into each and every incarnation.
The spiritual is inclusive. It is the deepest sense of belonging and participation.We all participate in the spiritual at all times, whether we know it or not ~ Rachel Naomi Remen
She then said that there is a very powerful angel around me and that this angel would visit me tomorrow and told me, as she often did in everyday life, what to do.
I then laid down in my tent to go to sleep and had a dream. This dream was of me sitting and having tea and reading things that helped to give my soul growth. I was older, because in my dream I had gotten up and looked in the mirror and saw that I had aged. But I was radiantly happy…so much so that I actually looked younger, even though I had more wrinkles and grey hair.
The next morning I woke up inspired, and as I was making breakfast over the fire pit, I felt excited to connect with my angel. I will share what happened in Part 2 of this blog post.

About The Author: Moon Goddess

Moon Goddess is a third generation empathic healer and seer. She started to give healing readings to people more than 20 years ago. She has always been interested and studied all things metaphysical from a young age. Being hypersensitive she can feel and see things before they happen. Utilizing the Tarot, and with the help of her Guides, she is a source of support for many people all over the world. After he passed over, her grandfather kept his promise and came back to say goodbye and gave her the most amazing experience. Moon knows there truly is a Heaven, and it is wonderful! Sharing her experience has helped many people after they have lost someone, or anyone experiencing some form of grief. Get a reading with Moon Goddess now at PsychicAccess.com.


This site uses Akismet to reduce spam. Learn how your comment data is processed.